Daily Dead
We're back with another installment of our Horror Highlights! Watch the trailer for Death of Me, take a look at the Kickstarter for Nocternal, read about the virtual edition of this year's Mile High Horror Film Festival, and learn more about the release of Nicnevin and the Bloody Queen!
Watch the Trailer for DEATH OF ME: "Vacationing on an island off the coast of Thailand, Christine (Maggie Q) and Neil Oliver (Luke Hemsworth) awake hungover and with no memory of the previous night. They find footage on Neil's camera, and watch, horrified, as Neil appears to murder Christine. With twenty-four hours until the next ferry and a typhoon threatening the island, Christine and Neil attempt to reconstruct the night's events—and are snared in a web of mystery, black magic, and murder."
Starring:
Maggie Q, Luke Hemsworth, Alex Essoe
Written By:
Ari Margolis, James Morley III, David Tish
Directed By:
Darren Lynn Bousman
———
Scott Snyder and Tony S. Daniel Present NOCTERNAL COLLECTOR'S EDITION on Kickstarter: "Imagine that tomorrow the sun simply doesn't rise. You wait. And you wait, but night just continues…
You can still feel the sun's warmth – it must be there – but for some reason, light no longer reaches the earth. There's only darkness. But this new darkness, there's something strange about it, something terrifying. Because anything – or anyone – that stays in it too long starts to change…
Bestselling comic book writer Scott Snyder, acclaimed artist Tony S. Daniel, colorist Tomeu Morey, letterer Deron Bennett, and editor Will Dennis are collaborating on NOCTERNAL — a new creator-owned comic book series about humanity trying to survive in everlasting darkness — and launching a Kickstarter campaign for NOCTERNAL COLLECTOR'S EDITION, an exclusive, behind-the-scenes edition of the series' debut issue. Starting at 72 pages, NOCTERNAL COLLECTOR'S EDITION is a one-of-a-kind reading experience, with Scott Snyder's script displayed alongside Tony S. Daniel's linework to provide a rare look at the process of making comics. If funded on Kickstarter, NOCTERNAL COLLECTOR'S EDITION will be released to backers ahead of Image Comics' release of issue 1 this winter and would mark the first time that one of Snyder's scripts has been published in its entirety.
NOCTERNAL takes place ten years after the world is plunged into an everlasting night that turns all living creatures into monstrous "shades." Enter Valentina "Val" Riggs, a skilled "ferryman" who transports people and goods along deadly unlit roads with her heavily illuminated eighteen-wheeler. When an old man promising sanctuary offers Val a job to drive him and his granddaughter up through the Rocky Mountains, she takes it, hoping there might be some truth to his claim. What she finds in the end, though, is something much more horrifying than any shade…
"2020 has put a lot of things into perspective, for comics fans, pros, and businesses–and for me," said Scott Snyder. "With everything going on right now, I wanted to return to creator-owned work in an even more dedicated way. NOCTERNAL is the first release under my new Best Jackett Press label and will be released by Image Comics as a monthly series, starting early next year. But with conventions shut down for the foreseeable future, the creative team and I wanted to find a direct way to build meaningful relationships with our fans before issue one drops to give them a unique experience. We decided to create a behind-the-scenes collector's edition of the first issue that provides a different reading process, looks at how a comic like this gets made, and highlights Tony's phenomenal linework."
To showcase Daniel's line art in all its detailed glory, the creators are printing the collector's edition in black and white, available in two formats: an unsigned softcover and a hardcover signed by Snyder and Daniel. Both editions will only be available to Kickstarter backers. The funding goal of $37K will cover the book printing, rewards production, and fees from Kickstarter, Stripe, and BackerKit. Any funds that are raised beyond the funding goal will help cover production costs for the first story arc, up until issue #6. Additional pledge tiers include a limited edition lithograph, a sketch by Daniel, a master class with Snyder, and more.
"I really don't think anyone's ever released anything like this before, ahead of a series debut," said artist Tony S. Daniel. "Publishers release ashcans at conventions, but we're excited to share a rare look at how the comic gets made, especially since Scott's scripts are almost never seen by comic fans."
"Creator owned books are about connection," said Snyder. "Instead of asking you to trust us with company owned characters you already love, they ask you to follow us into worlds unknown. They're about taking a leap of faith–together. So with this, we wanted to offer you something that's personal and collectible that also allows us to connect with you and show you how a book like this gets made."
For updates, follow Best Jackett Press on Twitter and Facebook.
To support the campaign, visit Kickstarter: https://www.kickstarter.com/ projects/scottsnyder/823774553 ."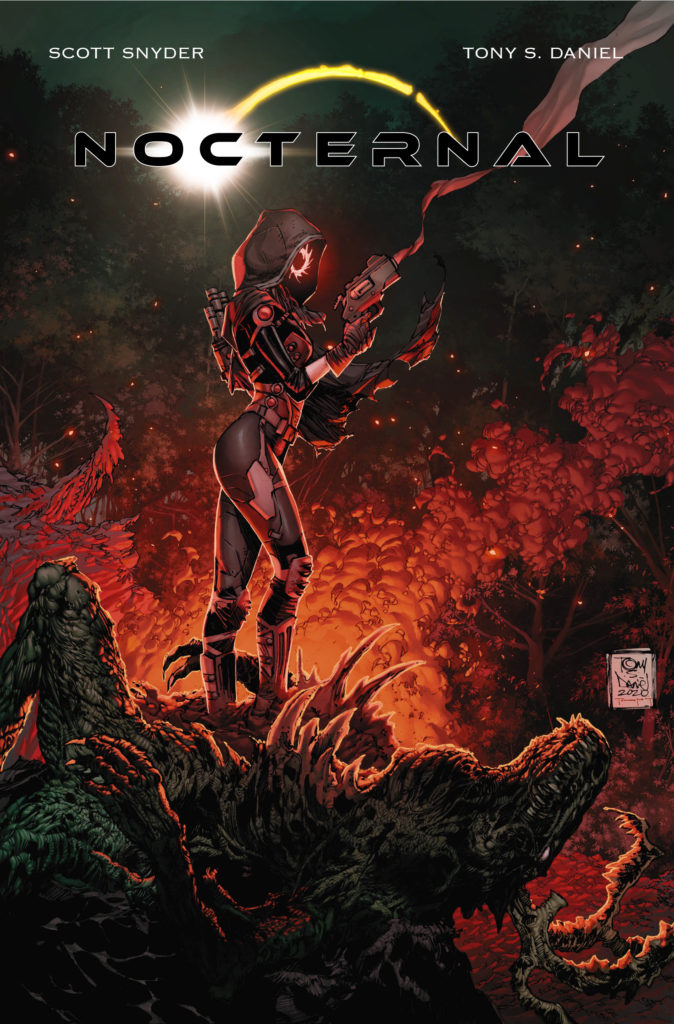 ———
MILE HIGH HORROR FILM FESTIVAL Launches Virtual in 2020: "The Mile High Horror Film Festival (MHHFF) is launching a virtual edition of its festival September 24th – October 4th, 2020 with additional potential dates TBA. The MHHFF was previously postponed in the spring due to Covid-19.
"With theaters closed and large gatherings no longer allowed, we are launching our festival virtually this year," says MHHFF co-director Timothy Schultz. "Horror fans are hungry for new films and we're excited to shine a spotlight on them."
The 2020 virtual MHHFF will feature an array of Q&A's with guests and over 80 of the best genre films from around the world.
The festival will welcome back co-writer/director of THE BLAIR WITCH PROJECT, Dan Myrick as a special guest judge.
The 2020 MHHFF film and guest lineup will be released soon. For film and ticket information, visit http://www.mhhff.com.
———
NICNEVIN AND THE BLOODY QUEEN, a Haunting Coming-of-Age Horror Story For Our Times: "Something strange has been unleashed in the North of England. A modern-day druid has been committing a series of ghastly murders in an attempt to unleash the awesome power of the ancient gods of Great Britain. But all hell really breaks loose when his latest would-be victim, rebellious teen Nicnevin "Nissy" Oswald, turns out to be more than she seems. In NICNEVIN AND THE BLOODY QUEEN, debut graphic novel writer Helen Mullane, acclaimed artists Dom Reardon and Matthew Dow Smith, and celebrated colorist Lee Loughridge have created a haunting and unsettling coming-of-age horror story for our times.
"Darkly magical and strange, NICNEVIN AND THE BLOODY QUEEN explores British landscape and myth in the style of folk horror film and TV from the 1960s and '70s but with a contemporary edge."— Kim Newman (Anno Dracula)
Humanoids, the publisher of some of the world's most iconic and groundbreaking science fiction and fantasy graphic novels, will publish NICNEVIN AND THE BLOODY QUEEN in the UK on August 20, 2020. The book features a stunning cover by Jock, the co-creator of Wytches and one of the modern masters of comic book suspense.
This original graphic novel marks the literary debut of writer Helen Mullane, who collaborates with artists Dom Reardon and Matthew Dow Smith, letterer Robin Jones, and colorist Lee Loughridge for a different kind of horror and a different kind of heroine. In the story, London teen "Nissy" Oswald is stuck in the countryside for the entire summer with only her mother and little brother for company, but things start to look up when she meets Reggie, an attractive and mysterious older man to whom she feels inexorably drawn. As Nissy divides her time between feuding with her mother and lusting for Reggie, the small town is rocked by a grisly murder and everything changes. "I wanted to channel the feelings and attitudes that I remember so clearly from my own teenage years, the experiences of me and my friends," said Mullane. "We weren't wholesome or chaste, or bothered about saving the day–we weren't the Famous Five or the Teen Titans! We just wanted to hang around, maybe get a bit wasted, get crushes on whoever was around… I feel like that sort of teen experience is rarely explored in mainstream comics."
The original graphic novel received widespread acclaim upon its publication in the States this spring:
"A series of murders in rural England might not seem like the sort of thing that would interest a surly teenager, but Nicnevin Oswald has no idea that she's at the center of a story that stretches back centuries and places her in grave danger. Welcome to the world of Nicnevin and the Bloody Queen…a world of druids, magical thinking and murders."—HOLLYWOOD REPORTER
"A truly great horror story that simultaneously conjures images from that golden age of British horror, while presenting a distinct modern slant—which is both timely and very welcome. Compelling, unique, and unmissable."—Tula Lotay (All-Star Batman)
"Beautiful and foreboding."—DAILY DEAD
"Dredging its dread from the deep well of teenage anxieties and British folk horror, a new original graphic novel being published by Humanoids is an old-fashioned fright yarn that weaves a lasting spell on readers yearning for an intense murder mystery with a black magic flair….  A disturbing coming-of-age horror story perfect for these complicated digital age times."—SYFY WIRE
"Darkly magical and strange, Nicnevin and the Bloody Queen explores British landscape and myth in the style of folk horror film and TV from the 1960s and '70s but with a contemporary edge."—Kim Newman (Anno Dracula series, Nightmare Movies: A critical history of the horror film, 1968–88)
"For a modern teenage girl, there is no thought more chilling than a summer vacation with their mother in the middle of nowhere. But throw in witchcraft, murder, and mysterious strangers, and you have a different kind of horror entirely. … Beautifully unnerving."—SCREENRANT
"What makes Nicnevin and the Bloody Queen so special isn't just how well crafted and ornate it is, but how it seamlessly blends an insidious fairy tale murder mystery with the coming-of-age story of a teenager embracing her emerging identity."—Emma Ríos (Pretty Deadly)
"Helen Mullane's debut graphic novel Nicnevin and the Bloody Queen carefully walks the line between realism and folk horror in a way that only the best horror stories do.  Mullane's unique take on the folklore and mythology of Great Britain, told through the eyes of a disaffected teen, slowly works its way towards an explosive ending with many terrifying signposts along the way."—HORROR NEWS NETWORK
"Folk horror is the ideal genre for exploring the wave of unreason engulfing us, and in Humanoid's NICNEVIN AND THE BLOODY QUEEN by Helen Mullane and Dom Reardon the comics medium may just have the final word. This is a masterpiece."— Alex Paknadel (Friendo)
"The artwork for this collection is gorgeous… It's easy to fall under the spell of this book…. Highly entertaining story."—FANGIRL NATION
"NICNEVIN & THE BLOODY QUEEN is a moody slice of folk horror that peels away the skin of modern Britain to reveal its wild and bloody heart."—Andy Diggle (Losers)
"A fantastic gothic horror, fairytale-esque story that draws in readers with an unnerving art style and a narrative that keeps you turning the pages."—WICKED HORROR
"This is an excellent book. Helen Mullane is going to be a name to watch."—Christian Ward (Invisible Kingdom, O-DC)
"Like a great witch's potion, Humanoids have stirred together a cauldron of quality creators who bring their own unique skills together to create something magical and mysterious."—PIPEDREAM COMICS
"Folk horror at its finest."—Lawrence Campbell (B.P.R.D.)
"Reminiscent of some of Mike Mignola's best work…. The art is fantastic and the atmosphere is perfect."—FORCES OF GEEK
"A contemporary folk horror tale rich in atmosphere and feeling…. Impressive."—WYRD DAZE
"NICNEVIN AND THE BLOODY QUEEN is eerie yet cathartic. Strange yet graceful. Novel yet wistful…. [It] marks Helen Mullane as a much needed, passionate new voice in horror/weird fiction."—Lonnie Nadler (The Dregs)
"NICNEVIN is the kind of dark and spooky British tale that appeals to the mid-teen to adult crowd and seems like a nice, fun confection—right up until it rips out your guts and leaves you with nightmares for weeks on end.  Anyone whose read Neil Gaiman's novels can appreciate the style… It's an impressive work."—PULLBOX
"This is fabulous! A bewitching blend of British folk horror and coming-of-age yarn that had me racing through its pages, desperate to see what happened next. Nicnevin is a heroine for our times, a sympathetic but credibly self-absorbed urban teenager discovering there's more to the landscape than meets the eye."—Anne Billson (Suckers, Stiff Lips, Cats on Film)
"Nicnevin and the Bloody Queen captures much of the same brooding vibe of the old British manifestations of folk horror."—COMICS BEAT
NICNEVIN AND THE BLOODY QUEEN is ripe with black magic, myth, and murder. The book comes alive with its honest depiction of family dysfunction and moments of quiet despair. It's a spellbinding story, the kind that recalls the best horror stories of the past, while daring to unearth something entirely new.
For more updates, follow Humanoids on Twitter, Facebook and Instagram. "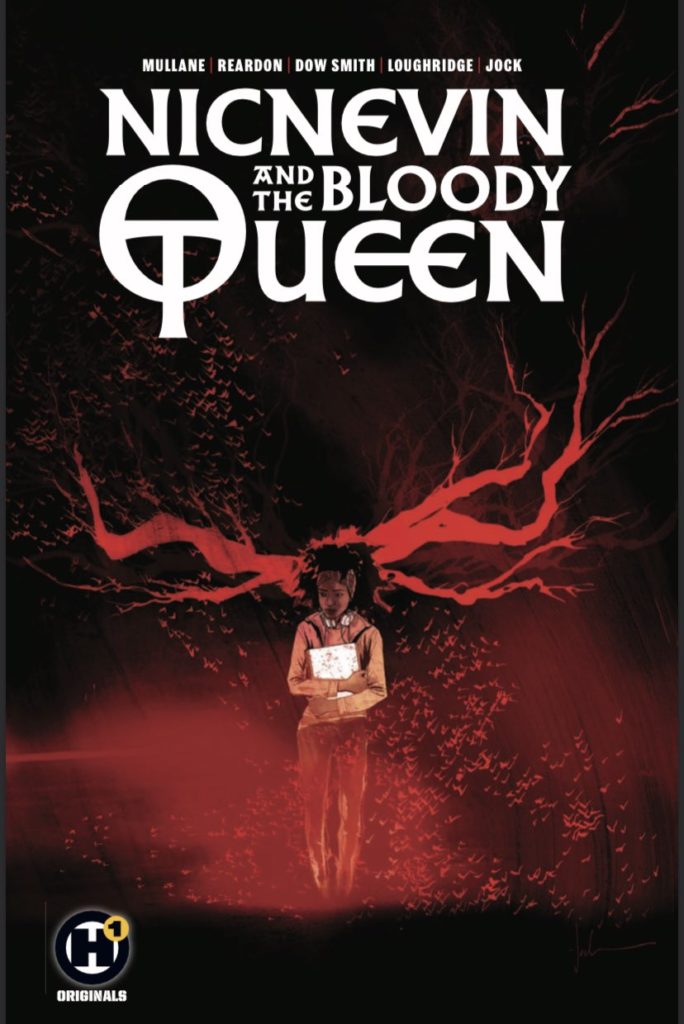 Go to Source
Author:
Jonathan James
Daily Dead
Hits: 0