Daily Dead
AMC NETWORKS RELEASES LIMITED-EDITION COVER FOR THE ART OF AMC'S THE WALKING DEAD UNIVERSE: "AMC Networks released today renowned artists Yanick Paquette, Nathan Fairbairn and John J. Hill's limited-edition variant cover for The Art of AMC's The Walking Dead Universe. The cover uniquely brings together characters from all three of The Walking Dead series, also featuring the three-circle symbol that has been seen throughout the shows and represents the three different civilizations within the Universe.
The AMC Networks exclusive edition is only available at the TWDUshop.com and can be pre-ordered now while supplies last. The hardcover will retail for $80.
"We're excited to share this custom art by Yanick, Nathan and John as our official limited-edition cover," says Mike Zagari, Head of AMC Networks Publishing. "We knew the cover needed to special, and their work has exceeded our expectations, creating a truly memorable edition for our passionate fans."
Added Yanick: "It has been an equal part challenge and joy to draw these beloved characters. My first contribution to The Walking Dead Universe!"
Marking AMC Networks' first venture into book publishing, The Art of AMC's The Walking Dead Universe is an in-depth compilation of behind-the-scenes pre-production and production art from all three of AMC's iconic The Walking Dead series and will feature never-before-seen original sketches, concept art, storyboards, special product illustrations, and more from the shows inspired by Robert Kirkman's comic book turned pop-culture phenomenon.  Published by Skybound and produced by AMC Networks Publishing, this hardcover book, available at comic shops on September 29 and everywhere books are sold on October 5, also features an introduction by Chief Content Officer of The Walking Dead Universe Scott M. Gimple.
The Art of AMC's The Walking Dead Universe standard edition can be pre-ordered right now everywhere books are sold, in both print and digital formats, and at TWDUshop.com and the Skybound Store."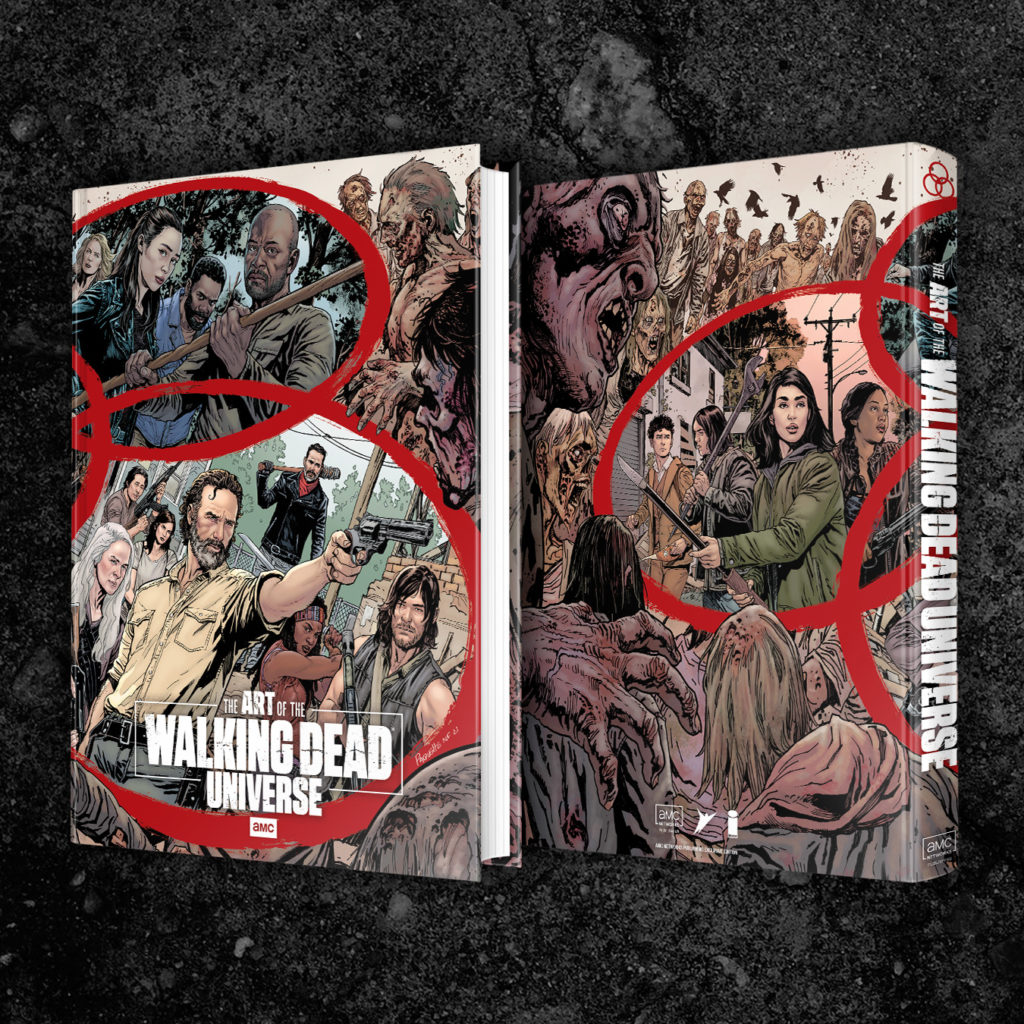 ———-
CHERNOBYLITE: "Video game publishers All in! Games and Perp Games together with development studio, The Farm 51, are pleased to announce that Chernobylite, the highly anticipated sci-fi survival horror RPG, will be released for PlayStation 4 (Digital+Physical) and Xbox One (Digital) on September 7th, 2021.
Chernobylite will be available digitally on PlayStation 4 and Xbox One storefronts for $29.99 / €29.99 / £24.99. Fans eager to get their hands on a physical version of Chernobylite for PlayStation 4 will be able to purchase a copy from their local retailers on September 7 in North America, and on September 10 throughout Europe for an SRP of $34.99 / €34.99 / £29.99
The physical retail edition of Chernobylite on PlayStation 4 will feature a physical map of the Exclusion Zone, digital postcards, a digital artbook 'The Art of Chernobylite', and more!
"With the PC launch right around the corner, we're thrilled to reveal that we've locked in Chernobylite's console release for this September," said Piotr Żygadło, CEO at All in! Games. "Working on our first simultaneous physical release together with Perp Games has been a great experience so far and a huge milestone for All in! Games. We are confident that Chernobylite will be one of the most exciting indie games of 2021 and intend to continue to give it our full support."
"It's humbling to see how Chernobylite's original concept, an interactive VR documentary, has become a full-blown video game, soon to be available across a variety of platforms," said Wojciech Pazdur, Director of Development at The Farm 51. "We can't wait for people to start exploring the hauntingly beautiful recreation of the real-world Chernobyl Exclusion Zone.""
———
THE GREEN SEA: "Simone (Katharine Isabelle), an American writer living a solitary life in Irish countryside, is haunted by visions of her past which begin to intertwine with the fantasy world of the novel she is writing, blurring the lines between reality and the fantasy. Her life changes, when the protagonist of her book, known only as "Kid", played by up and coming Irish actress Hazel Doupe (Float Like A Butterfly), appears to her as a victim of a drunk driving incident that forces the pair together. This sets up the beginning of an unlikely relationship, ultimately setting off a chain of events that will force Simone to face her sinister past."
Release Date: July 13, 2021 (VOD & Digital)
Written/Directed By: Randal Plunkett
Produced By: Edwina Forkin, Stephen Lordes
Starring: Katherine Isabelle (American Mary, Ginger Snaps), Hazel Doupe (Float Like A Butterfly), Jenny Dixon (Full Circle), Dermot Ward (Game of Thrones), Michael Parle (Tin Can Man), Zeb Moore (Hexing)
Distributor: Trinity Creative Partnership
Production Company: Dunsany Productions