Daily Dead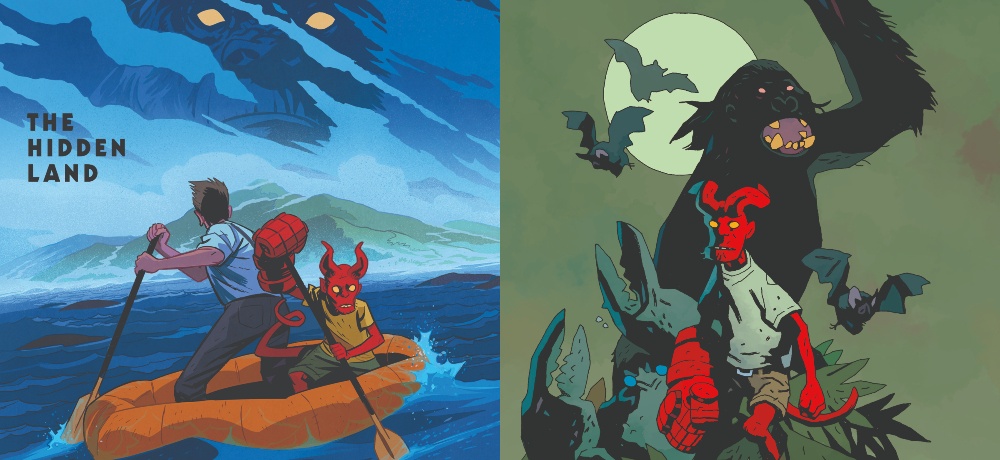 After embracing the pulp-style narrative in their novel Grim Death and Bill the Electrocuted Criminal, Mike Mignola and Tom Sniegoski are reteaming to bring that same pulp-infused fun to the world of comic books with Young Hellboy: The Hidden Land. Featuring artwork by Craig Rousseau, the first issue of the four-part miniseries will be released on February 17th from Dark Horse Comics, and we caught up with co-writer Sniegoski in a new Q&A feature to discuss his latest collaboration with Mignola, including exploring Hellboy's formative years and instilling The Hidden Land with a pulpy 1930s atmosphere.
Thanks for taking the time to answer questions for us, Tom, and congratulations on Young Hellboy: The Hidden Land! This marks your latest collaboration with Mike Mignola, with whom you co-wrote Grim Death and Bill the Electrocuted Criminal. How did your writing reunion come about for this project?
Thomas Sniegoski: It's really like some sort of weird chemical reaction. HA! Mike, Christopher Golden, and I were hanging out at Boston Fan Expo a little over a year ago, and at lunch we just started talking about "stuff" pertaining to the Hellboy universe and one of us said, "Wouldn't it be cool if…" And that's all that was needed. The germ that would end up becoming Young Hellboy: The Hidden Land was born.
You're no stranger to the Mignolaverse, having written Hellboy: The God Machine and co-written Mike Mignola's B.P.R.D.: Hollow Earth. Did having that previous experience in the Mignolaverse impact your approach to Young Hellboy?
Thomas Sniegoski: Oh, for sure. There's a very specific feel to the world and characters Mike has created. It's one of those weird things that you just know when something isn't right and you say, "Nope, Mike wouldn't do that," or "Mike wouldn't do it that way." It's actually kind of cool.
The Hidden Land captures a different time in Hellboy's life than we usually see. How fun was it for you to dive into an earlier period of Hellboy's life?
Thomas Sniegoski: It was incredibly fun to get a chance to write the character during his most formative years. This is a Hellboy who hasn't seen all that much of the outside world. He's still looking at things with young, fresh eyes. There's still a real "gee whiz" sense about things for him.
The Hidden Land has the infectiously fun atmosphere of a pulp novel or a prehistoric adventure film from the '50s. How important was it for you to give this comic its own distinct tone that sets it apart from other Hellboy stories?
Thomas Sniegoski: The most important thing that Mike and I decided about this series was that we wanted it to be fun. We wanted folks to come into the book and just get caught up in the exciting adventure of it all. The fact that it has the pulpy 1930s feel, or the '50s jungle adventure vibe is completely intentional. I absolutely LOVE that stuff, and so does Mike.
You and Mike teamed up with artist Craig Rousseau for The Hidden Land. What made Craig the right fit to help bring this story to life, and what was your reaction the first time you saw your script combined with Craig's artwork?
Thomas Sniegoski: Craig's stuff is amazing. I'd seen his work for years, and loved it, and always wanted to work with him. When Mike suggested him for Young Hellboy I couldn't have been happier. Craig brings this amazing sense of movement to the work, and there's not a wasted line. Everything on the page is there for a reason. It was really exciting to see his interpretation of things from the script. In fact, most of the time his stuff looked better than what I was seeing inside my head.
Do you have a favorite scene that you wrote in The Hidden Land that you're excited for readers to experience?
Thomas Sniegoski: I don't want to spoil anything, but I'll just says this. Giant Crabs. Ape God. That's all I want to say.
How long did it take you and Mike to finish writing The Hidden Land, and did you go through multiple drafts before it was completed?
Thomas Sniegoski: It went surprisingly quick. After Mike and I worked out the plot for the entire series and broke down what we wanted to see in each issue, it was off to the races. Each of the scripts probably went through two drafts or so. Mike would occasionally have some notes, and then the folks over at Dark Horse (the amazing Katii O'Brien and the fantabulous Jenny Blenk) might have edits for me as well. All in all, it went pretty darn fast.
With the first issue of The Hidden Land coming out on February 17th from Dark Horse Comics, do you have any other Young Hellboy adventures planned? And do you have any other projects coming up that you're excited to dive into?
Thomas Sniegoski: Unngh! SO. MUCH. COOL. STUFF. PERCOLATING. But I can't talk about any of it… yet! I'm still really excited about my Vengeance of Vampirella stuff over at Dynamite, and the new novel that I'm polishing right now for my agent, which I wrote with my amazing writing partner Jeannine Acheson. But all the other stuff is still too new to be talked about. Sorry! But I promise to talk about it as soon as I can… if anybody wants to listen! HA!
———-
Below, you can check out the gallery of preview pages from the first issue of Young Hellboy: The Hidden Land, and to learn more about the new comic book miniseries, visit:
Go to Source
Author: Derek Anderson
Daily Dead
Hits: 37