Daily Dead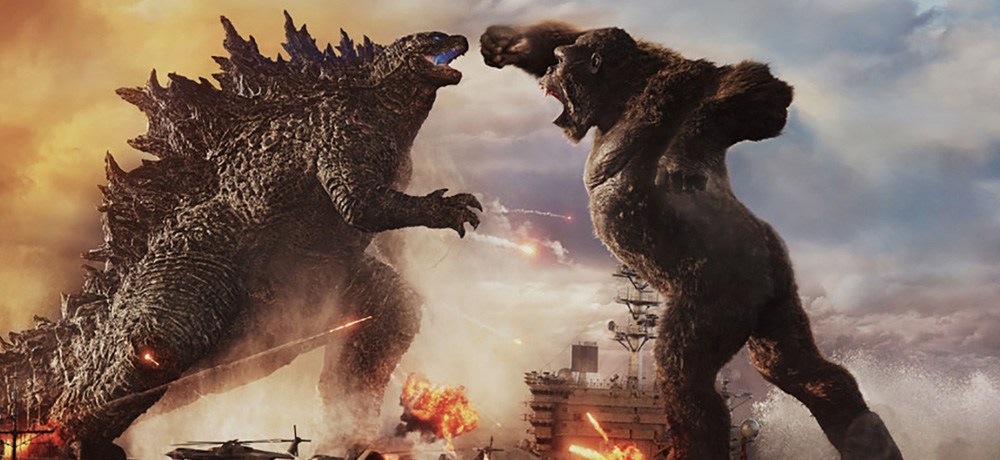 As someone who has been a fan of all the recent Monsterverse movies to varying degrees thus far, I can confidently say that Godzilla vs. Kong is easily the best of the bunch, as director Adam Wingard does a great job of not only celebrating both of these cinematic titans in ways that are befitting of their long-standing legacies, but also gives fans what they're looking for out of this kind of a "versus" film: a winner. Admittedly, though, even though GvK gives us a definitive conqueror between these oversized beasts, the real winners in the end are all the monster buffs out there who have been waiting decades to see Big G take on Skull Island's most famous resident, because it delivers in ways I was not expecting.
While I wouldn't dare ruin any of the surprises contained within Godzilla vs. Kong (this review, like all of my reviews, will be spoiler-free), here's a brief rundown of what happens during the film to set up this ultimate showdown. Essentially, Godzilla has been living out his days in peace after the events of King of the Monsters, roaming around the planet as a "friend of humanity," but there is concern about the existence of both Big G and King Kong, so Monarch has stepped in to create something of a sanctuary for the enormous ape, but it's evident that Kong isn't happy about the situation, despite striking up a friendship with a young girl named Jia (Kaylee Hottle), with whom he frequently communicates with. Out of nowhere, Godzilla gets all riled up and attacks the southern Florida facility of the mysterious organization called APEX, and it's clear that the only force of nature that can possibly help keep Godzilla in line is Kong.
Monarch decides that it's time for these beasties to finally go head-to-head to restore some balance and they set out to unleash the captive Kong in the one place where he can safely be tucked away from humanity, but also where Godzilla will be able to find him: Hollow Earth. And yeah, there are quite a few epic smackdowns that happen along the way until we get to that final battle in Godzilla vs. Kong, too, with each sequence being more jaw-dropping than the last.
I don't want to say too much more beyond that because my favorite part of watching Godzilla vs. Kong was that feeling of wonder and discovery that washed over me from start to finish (I had a big dumb grin plastered all over my face the entire time). But what I can say is that all the monster kids out there are undoubtedly going to be very happy with what Wingard has created here, as it not only expands upon the storylines from the previous Monsterverse films, but it also does a wonderful job of paying tribute to the original run of Toho Godzilla movies and even tips its proverbial hat to a variety of action movies from the 1980s and 1990s as well.
Something else that I really appreciated about Wingard's approach to Godzilla vs. Kong was how lively both creatures felt here. Don't get me wrong—I've enjoyed every incarnation of these iconic creatures to some degree thus far, but there's something about the way that they're presented here where they feel fully actualized and like real characters with real personalities, and those temperaments spill over into their various clashes in ways that feel like they tie directly into these characterizations of both Kong and Godzilla (this was something I felt had been missing from previous Monsterverse entries).
On a visual level, Godzilla vs. Kong is like an endless buffet of breathtaking imagery, and there are so many moments in this film where if you paused it randomly, you'd end up with something worthy of hanging on your wall as a stunning work of art. GvK is truly something else as a whole in that regard. The sequences in Hollow Earth in particular absolutely made my jaw drop during different moments, as I'd never really seen a "central Earth" locale portrayed the way it's here. It is utterly amazing what Wingard and his team came up with to transport us viewers into this magical and awe-inspiring space, and that really added this whole new level of creativity to this latest film in the series.
Something else I think Godzilla vs. Kong gets right is its human cast of characters, who are all likeable and engaging, and don't get in the way of the big monster action (which is, admittedly, what most of us are showing up for). Both Kyle Chandler and Millie Bobby Brown mark their return to the Monsterverse in GvK, and they're joined by newcomers to the series Rebecca Hall, Alexander Skarsgård, Brian Tyree Henry (who is hilarious), Eiza González, Julian Dennison, and the aforementioned Kaylee Hottle. Even though there's an earnestness to these films, which has made the dialogue feel a bit stilted at times in other entries, GvK definitely demonstrates an improvement over the other films in this capacity.
Initially, I had my reservations about how seamlessly Wingard was going to be able to blend the worlds of Godzilla (whose films have always had a more science-centric focus to them) and Kong (whose stories have generally been more focused on delivering up and celebrating action/adventure tropes) together into one film, but he absolutely blew away any expectations I had going into Godzilla vs. Kong, and gave me so much more than I ever could have hoped for. GvK feels like the ultimate celebration of these properties and their legacies in cinema for nearly 90 years now (Kong being older than Big G), and I think it's mathematically impossible for me to have loved Godzilla vs. Kong any more than I did. I'm ridiculously excited to watch it again soon as well (it feels like a film that will reward fans with repeat viewings, so I'm stoked to see if my theory holds up this upcoming weekend).
Movie Score: 4.5/5