Slash Film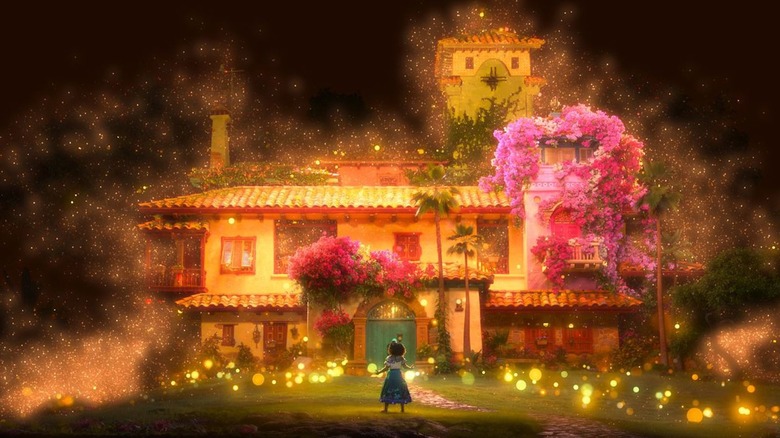 Byron Howard, Jared Bush, and Charise Castro Smith might have created the first-ever magical realist musical. The "Encanto" directors and co-director/writer, respectively, have created a Disney movie that more closely emulates that singular literary genre than many a live-action movie — and they did it with song and dance.
"When Jared and Byron brought me on to work on this film they were really interested in making a film that was inspired by magical realism," Smith, who co-wrote the script with Bush, told me in an interview with /Film ahead of the release of "Encanto" (now playing in theaters).
And they succeeded. "Encanto" is a film bursting to the brim with surreal magical happenings that are happily accepted as mundane by the characters within the film — a common element of the literary genre that has most of its roots in Latin America. So it's fitting that Disney's first Colombia-set film would pay such loving homage to magical realism, both in its influences and in its similarities to the plot of Gabriel García Márquez's magical realism classic "100 Years of Solitude" (seriously, it's uncanny).
"We kind of steeped ourselves in as much [magical realism literature] as possible," Bush said. "It's also something that we at Disney animation never tried before. Typically, our magic is European-based and we wanted to try something that felt very different and really was born out of character."
I chatted with Howard, Bush, and Smith about making the first Disney magical realist musical, animation for Lin-Manuel Miranda's uniquely energetic music, and the infinite mysteries of family.
"…In Looking At Latin America, The One Place That Kept Coming Up Over And Over Again Was Colombia."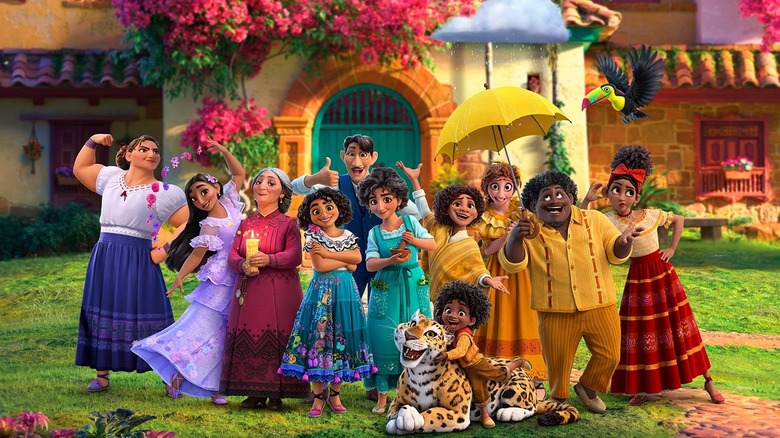 First question is for Byron and Jared. Your last Disney collaboration together was Zootopia, a very different film than Encanto. First, how did you go about directing a film that's very steeped in a Colombian culture and setting?
Byron Howard: Well Jared and I loved working together on "Zootopia" and Jared had just also finished Moana, working with Lin-Manuel Miranda and all of us, we're musicians. Lin, of course is. Jared and I are also musicians, not as accomplished, but just enthusiastic, but we wanted to do a musical. We really, really wanted to.
And Lin was very keen on working with Disney again. We knew where it should be set, we knew it wanted to be about family, about extended family, but in looking at Latin America, the one place that kept coming up over and over again was Colombia, because of this is amazing crossroads of culture, of dance, of music, of family, amazing mixed, diverse families that we thought would be perfect for this film. What would you add Jared?
Jared Bush: Yeah. And I'd say on top of that, we have this amazing Colombian cultural trust that's been helping us the entire time. So for five years straight, actually even before we thought of the movie we had wonderful friends that helped us on Zootopia, Juan Rendón and Natalie Osma, who are Colombian, who are already talking to us about Colombia. So it's really been like five years of learning for us and we're lucky that we have dozens and dozens of people helping, us teaching us, and looking at the movie at every single phase along the way.
And Charise, can you speak to the influences that worked, that you had while writing the script with Jared, both culturally and maybe artistically?
Charise Castro Smith: Sure. So when Jared and Byron brought me on to work on this film they were really interested in making a film that was inspired by magical realism. Jared and I used that as a touchstone, as we were writing throughout the whole process, and I think the way that we sort of interpreted that and thought about it in the film is that it's magic that's born out of human emotion, out of relationship, out of need and drive, and there's a big sort of central event that happens family that's really born out of the abuela, the matriarch of this movie's unconditional love. Using that kind of guide post for the magic in the movie was something that we decided on really early on was really important throughout.
"Typically, Our Magic Is European-Based And We Wanted To Try Something That Felt Very Different And Really Was Born Out Of Character."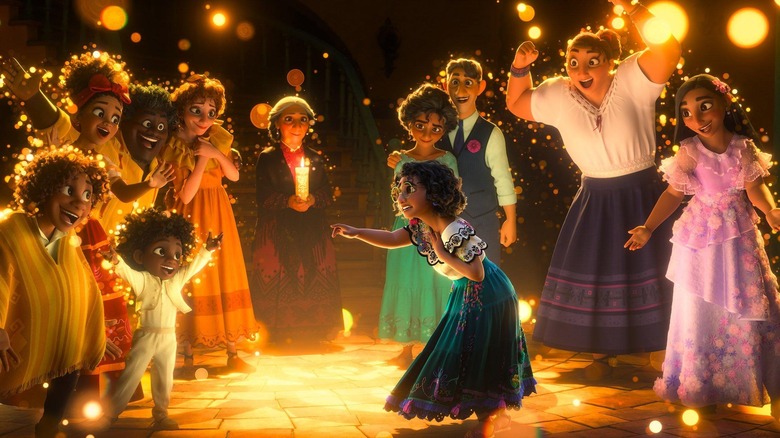 Let's talk about magical realism. It's a literary genre that has its roots in South America and — well have you guys read Gabriel García Márquez's "One Hundred Years of Solitude"?
Bush: Of course. We all love that literature anyway and so I think early on certainly Gabriel Garcia Márquez is someone we were reading or [Jorge Luis] Borges or Isabel Allende. Yeah. I think we kind of steeped ourselves in as much as possible. It is really difficult to translate to film, actually. I think on the page magical realism is one thing so, I think what Charise is saying … our movie's inspired by magical realism. I don't know that we'd call it actual magical realism, but these are stories we love because it's a type of magic that is really rooted in reality and character needs that foundation, and it's also something that we at Disney animation never tried before. Typically, our magic is European-based and we wanted to try something that felt very different and really was born out of character.
Yeah. When I was watching the film, I immediately thought of "One Hundred Years of Solitude." So I think you were able to communicate that magical realism, and I think it's also probably the first magical realist musical.
Bush: Oh, I didn't think about that. Amazing. That's probably true. That's a good point.
So what do you think it is about the musical and magical realism that you're able to sort of marry those two things that feel like they shouldn't be in the same sentence really?
Howard: Well, I'd say that when one of the things that Lin got excited about very early on was writing for an ensemble like this big group of a dozen people that all have, that are intertwined in this family tapestry inside… That got him very excited, I think also as we saw what Charise and Jared were doing with the script and especially leaning into the grandmother's backstory, this sort of the core of what this family is about, it let Lin have a lot of different colors to paint with musically. So, every song is different. Like, there're some songs that feel like they could be on the radio today like Reggaeton songs, very contemporary kind of synthy, and then there are songs like "Dos Oruguitas," it's this beautiful song that feels like it's a folk song that's been around for 100 years, but it's so personal to the Madrigal family. I think it's a surreal, it really woke me up as far as what I thought this movie was going to be at the beginning and what it became, it's much more than I thought it ever could be so I was very happy that emotion was such a big part of this movie that it just made its way into the music.
"We Knew When We Got To The Music Portions That The Music Had To Transport Us Somewhere Different."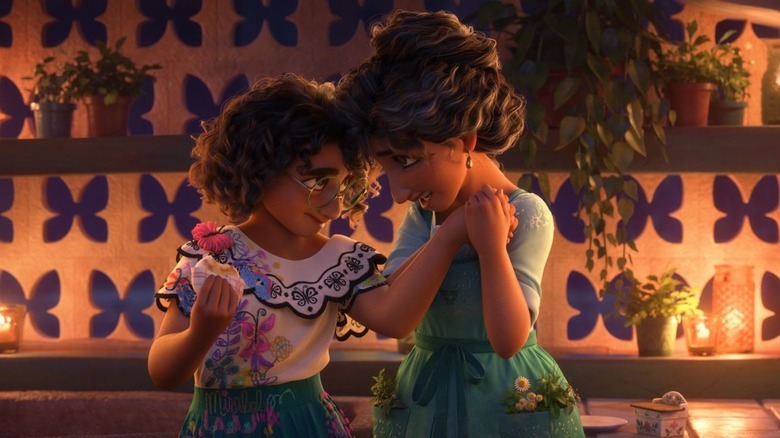 The musical sequences too, are so vivid and imaginative they feel like they're in dialogue with Lin-Manuel Miranda's very energetic, unique kind of music. Byron and Jared, can you speak as to the direction of these sequences and how they push the boundaries of reality maybe in the ways that magical realism does?
Bush: Yeah. For sure, I'd say that one of the things we knew early on is we're going to center this movie around this family, 12 people, and we're going to be in a house with these 12 people. So, we knew when we got to the music portions that the music had to transport us somewhere different or open up our eyes or really sort of push the environment around us. So the characters, worlds that we didn't really get to visit in the house itself. One of the real joys for us in working with Lin, is that we would go back and forth and trying to figure out, "Okay, who's whose song is this going to be?" And he'd be able to distill down a song like "Surface Pressure," which is Luisa's song. You know, he really took that from his own family life, his oldest sister, someone had all this responsibility but he always says he always saw her vulnerabilities, tiny.
He could see those things and putting that into a song gave us something really special, but his lyrics talked about things all over the world and throughout history and we thought, "What a great way to show that. Put it into animation so those lyrics would come to life." I think one of the really exciting things is when we started this movie we didn't know how all of that would play out what the songs would actually sound like, where they might take us. It was really this organic back and forth that allowed us to be very creative but at the same time every single one of these songs is super grounded in character, and the emotions, and what the family is going through.
Well, another of the things I found really interesting about this movie story-wise was that there's no real villain and it deals with such deep topics as the pressures that family can put on you. Charise, can you speak about that? How do you structure a Disney musical film around a story that has no villain and that is about these more mature topics?
Smith: Well, yeah, it's an interesting question and for a long time we were trying to figure out how to do that and how to balance, particularly that character of Abuela Alma, because we had a lot of screenings and it was always just a process of trying to figure out how do we make her relatable, not too gruff and unlikable? So balancing her as a character was something that took a long time and was a really nuanced process but then also we started thinking of the film as a mystery actually. There is not an antagonist in a traditional way, but Mirabel is slowly sort of unraveling this mystery about her family as she goes sort of talking, getting to know people deeper and piecing together sort of what's wrong. Once we sort of had that insight, that it was actually sort of more of a mystery structure it was a really big revelation.
So it's a magical realist musical mystery movie.
Smith: You know, just one those!
Bush: All the M's. They're all M's. And Mirabel and Madrigal. So we just, any M word is in there!
"Encanto" is playing in theaters now.
Read this next: All 58 Walt Disney Animation Studios Films Ranked From Worst To Best [Part One]
The post Encanto Directors on Creating Disney's First Magical Realist Musical [Interview] appeared first on /Film.
/Film – 'Slash Film: Encanto Directors On Creating Disney's First Magical Realist Musical [Interview]'
Author: Hoai-Tran Bui
Go to Source
November 24, 2021
Hits: 0