Slash Film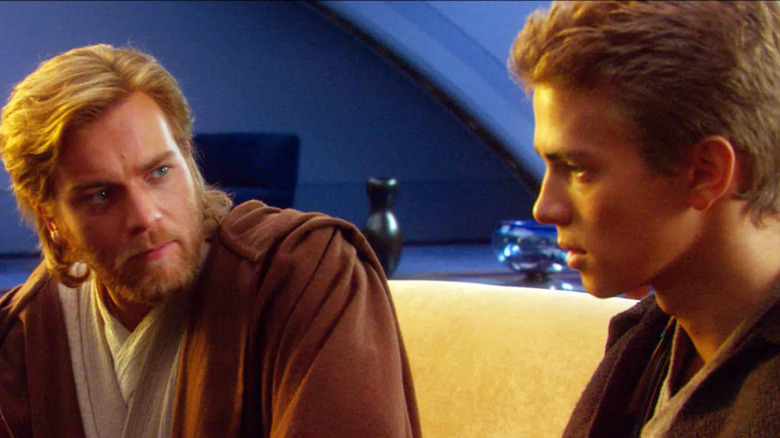 Baz Luhrmann's "Moulin Rouge!" enchanted audiences with its colorful and frantic imagery, sweeping romantic music, and heartfelt performances from Ewan McGregor and Nicole Kidman. But the road to its release was rocky with numerous production delays that caused a scheduling conflict with the sci-fi juggernaut "Star Wars: Attack of the Clones," which coincidentally also stars McGregor as the wise Jedi Master Obi-Wan Kenobi. 
The troubles with "Moulin Rouge!" began with the death of Luhrmann's father on the first day of shooting; production had to be pushed back a week to give the director a chance to grieve. "I wanted to give up so much, more than ever before and, I hope, more than I ever will again. I think that is something about this journey. Without getting too sentimental about it, I did say to my dad that I'd get it done," Luhrmann told The Guardian. Kidman broke her rip twice during filming, first during a dance sequence and the second time because of her obsessive quest to get an 18-inch waistline like Vivien Leigh's in "Gone with the Wind" (via Yahoo!). She also fell down the stairs, which led to her having to film several scenes from the waist up because she was in a wheelchair. 
All of these unfortunate incidents led to lengthy delays, and McGregor was soon torn between two significant projects: one that was not ready to end and another that was impatient to begin.
Star Wars Takes Over The Studio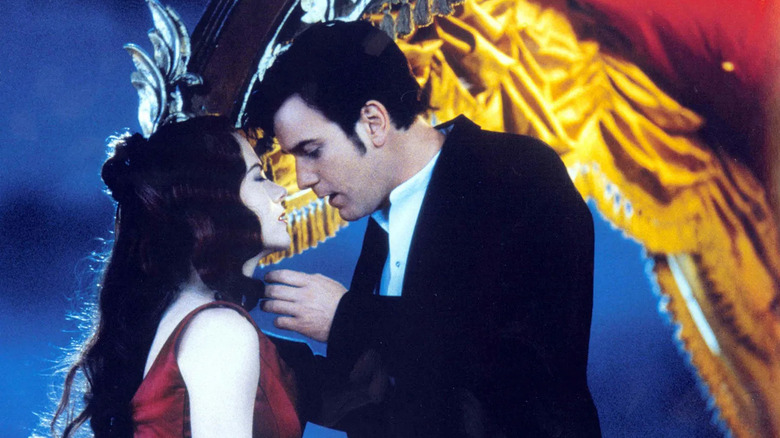 Luhrmann created his fantastical version of the famous nightclub inside Australia's Fox Sydney Studios. The sets of "Moulin Rouge!" are spectacular, a cornucopia of sensual red velvet, sparkling diamonds, and luscious golds. However, the opulent Parisian locations had to be quickly destroyed to make way for intergalactic spaceships and creatures. The numerous delays set the production behind schedule and Luhrmann had to relinquish the studio to George Lucas' "Star Wars: Attack of the Clones." Luhrmann elaborates in The Guardian on the quick transition: "The elephant sequence, we were supposed to shoot for a week, but we ran out of days, and George Lucas, who is a very nice man, but his producer just ripped the thing down. I had to condense the shooting of that," and he was forced to "quietly and secretly finish the movie in Madrid." 
Ewan McGregor was very disheartened by the abrupt ejection from Sydney Studios: "It was depressing to go on that quickly: I was yearning for more. ['Moulin Rouge!'] was so emotionally charged to make. I've never been happier to do anything in my life."  Entertainment Weekly (via Empire) reports that McGregor was "angry recalling the wrecking balls that demolished the Moulin Rouge! set," telling the magazine: 
"That was awful. I resent ['Star Wars'] for that. [The set] could have been put up somewhere else and used as a club or something. It was that fabulous." 
Ironically, the artful sets of "Moulin Rouge!" had to be demolished for Lucas' massive, soulless blue screens — he was relying on CGI more than the kind of practical craftsmanship that made "Moulin Rouge!" such a wonder to behold.
Read this next: The 19 Greatest Movie Couples Of All Time Ranked
The post Even Ewan McGregor Couldn't Save Moulin Rouge! From Star Wars appeared first on /Film.
/Film – 'Slash Film: Even Ewan McGregor Couldn't Save Moulin Rouge! From Star Wars'
Author: Caroline Madden
Go to Source
August 1, 2022
Hits: 3