Slash Film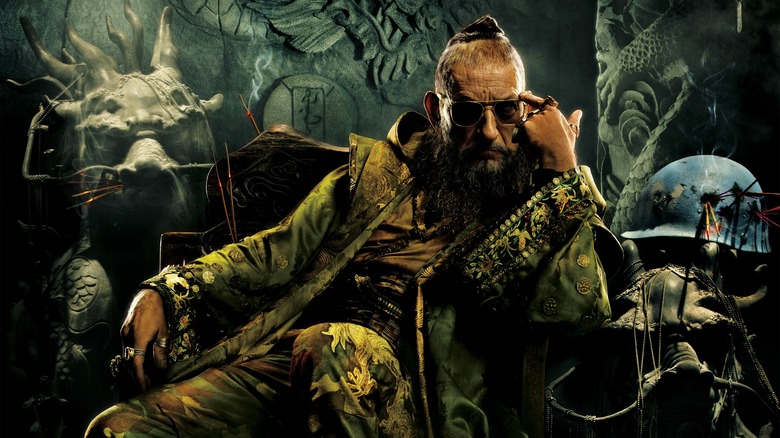 "Shang-Chi and the Legend of the Ten Rings" finally hit theaters over the weekend. Aside from introducing Simu Liu as the latest superhero in the Marvel Cinematic Universe, and breaking records at the box office, the movie accomplished a great deal. One of its largest, and most surprising accomplishments, was bringing back a ghost of the MCU's past.
Spoiler warning: the rest of this article features spoilers for "Shang-Chi and the Legend of the Ten Rings."
Those who have seen the movie know that the rumors were true: Ben Kingsley did indeed return as Trevor Slattery, aka the fake Mandarin from "Iron Man 3." But how did this come about? Well, director Destin Daniel Cretton has answered that very question. In a recent interview with Variety, the filmmaker revealed the unique way that Kingsley agreed to return.
"That first conversation ended with Sir Ben Kingsley shouting to somebody from the other room. This is after about an hour of wondering if Sir Ben is going to do our movie," Cretton said. "Trevor starts shouting from the other room, 'Who are you talking to?' 'I'm talking to Destin.' 'Who's Destin?' 'Oh, he's directing the new Marvel movie. They want you to be in it.' 'They want me to be in it?! When do we start?!' 'Uh, I don't know, we haven't gotten into that yet.' It went on for about two minutes. By the end, he just said, 'Thank you for the chat. Trevor is very excited, but I'll talk to you later.'"
Let it never be said that Kingsley is not dedicated to his craft. Based on his performances as Trevor Slattery, both in "Iron Man 3" and "Shang-Chi," it's quite clear he has a great time in that role. But let us not forget that Kingsley is a working man's actor, despite being a Sir. Yes, he's got an Oscar for "Gandhi," but he also shows up in movies like "BloodRayne." The man clearly likes to work and isn't above … well, just about anything it would seem.
A Refresher On Trevor Slattery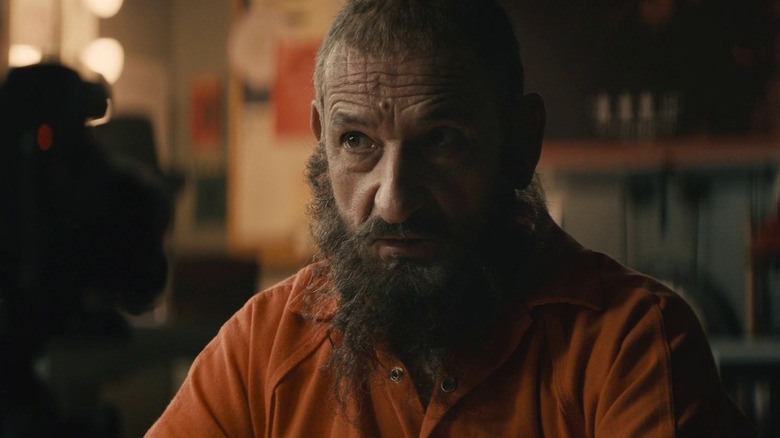 As many fans will surely recall, Kingsley's first foray into the MCU was a bit of a mixed bag. The marketing for "Iron Man 3" firmly positioned The Mandarin as the big bad. The teaser trailer was loaded with menacing dialogue from the character. But, as we would come to learn, The Mandarin was a pure fabrication. An actor with substance abuse issues by the name of Trevor Slattery was hired by Aldrich Killian (Guy Pearce) to play the part of this would-be terrorist. It was all a ruse.
The twist lives on in infamy. Some Marvel fans hold up "Iron Man 3" as one of the better sequels in the MCU. Others couldn't get past that reveal. I personally groaned very loudly in the theater opening night and never quite recovered. Though what was done in "Shang-Chi" certainly helped to ease the sting a bit. The general consensus is that Tony Leung absolutely crushed it as the "real" Mandarin. Though the character firmly rejects the use of that name within the movie itself.
What is perhaps most interesting is that Trevor was a pretty big part of "Shang-Chi," and he seemingly survived the third act. So we may not have seen the last of him in the MCU. Whether or not Kingsley is game for another go-around, or when that appearance would take place, remains unknown at this time.
"Shang-Chi and the Legend of the Ten Rings" is in theaters now.
Read this next: Who Is The 'Fake' Mandarin? Everything You Need To Remember About Trevor Slattery Before Shang-Chi
The post Here's How Ben Kingsley Agreed to Play Trevor Again in Shang-Chi appeared first on /Film.
/Film – 'Slash Film: Here's How Ben Kingsley Agreed To Play Trevor Again In Shang-Chi'
Author: Ryan Scott
Go to Source
September 7, 2021
Hits: 2