Slash Film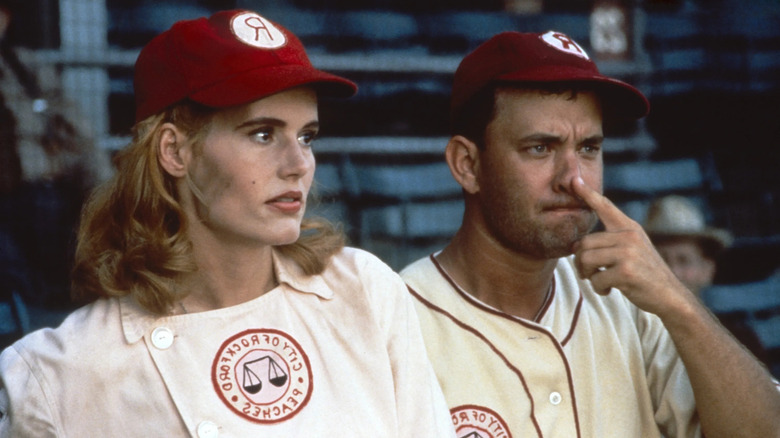 Penny Marshall's 1992 sports dramedy "A League of Their Own" was beloved from the jump. Set largely in the 1940s, "A League of Their Own" tells a fictionalized version of the founding of the All-American Girls Professional Baseball League, and that league's most successful team, the Rockford Peaches. (Note that this was a time when grown women were actively called girls.) The broad history of the league is accurate, but none of the characters in Marshall's film are based on real people. 
Geena Davis played Dottie Hinson, the team's catcher and most capable player. Dottie also served as the team's manager as the original coach the higher-ups initially assigned to the job, Jimmy (Tom Hanks), was too lazy and disinterested by the very notion of women's baseball that he slept through most of the games. In true sports movie fashion, "A League of Their Own" starts out with a chaotic and ragtag team and witnesses them grow into a powerhouse force — and one aware of its own public image out of necessity — to be reckoned with. The film also starred Lori Petty, Madonna, Rosie O'Donnell, Megan Cavanagh, and Anne Ramsay. 
In a recent interview with Vogue for the film's 30th anniversary, Davis talked about how much she enjoyed working on the film. Davis, who was 36 at the time of shooting, revealed that learning to play baseball ended up pointing her career in a new direction. Not only did playing an athlete open doors for more physical, action-heavy roles in the near future, but it led to Davis pursuing an honest-to-goodness Olympic career.
The Olympic Archery Team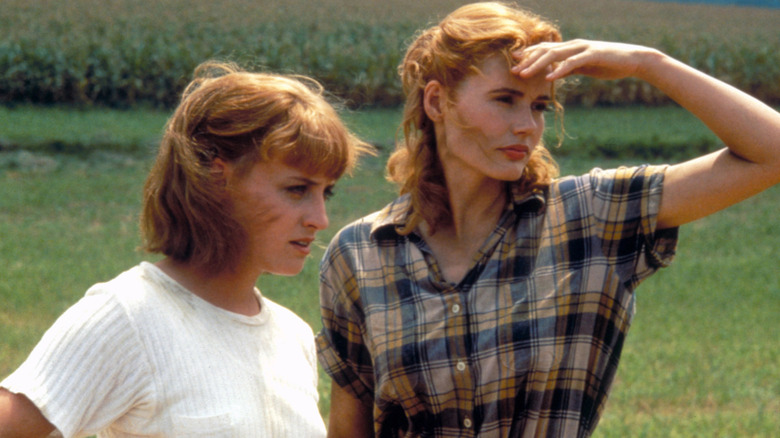 In a statement that will warm everyone's hearts, Davis declared that shooting "A League of Their Own" in Indiana in August was a miserably hot experience … that allowed the cast to bond. She says that she and many of the other cast members are still friends. "It was very, very exciting to find out that I was coordinated, even though it was at 36 that I found out," she said. "I watched the Olympics in '96 … and I thought, well, wait a minute. That is a very dramatic and beautiful sport."
The dramatic and beautiful sport Davis is referring to is not baseball, but archery. After seeing it in the summer of '96, Davis decided to take up the sport. Two years later, she was in Olympic trials. 
In case you couldn't love her more, Davis, already an award-winning actress (she won an Oscar in 1989 for "The Accidental Tourist," was nominated for "Thelma and Louise," and was granted a Jean Hersholt Humanitarian Award in 2020) and, famously, a member of MENSA, also tried out for the Olympic archery team in 1999. Davis aimed to participate in the 2000 Olympic Summer Games in Sydney. Sadly, she evidently did not qualify, coming in 24th. Although she did not complete on the American team, Davis did participate in the Sydney Golden Arrow Competition that same year. 
But a professional archery career wasn't even the most life-changing aspect of "A League of Their Own." Being looked up to came along with it.
A New World Of Fame And Power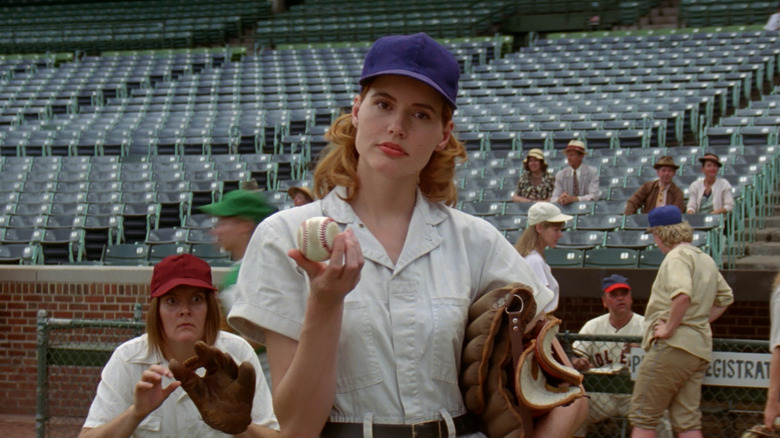 According to the Vogue article, it was after the release of — and Oscar nomination for — Ridley Scott's "Thelma and Louise" that Davis began having a new flavor of fan encounter. Prior, she admits to signing a few autographs, but it was after that fans wanted to converse. "Thelma and Louise" was a movie that warranted discussion, and the film's fans often wanted to bend Davis' ear about the movie's tone, its themes, and its messages. This led Davis to reconsider a lot of her roles and had her thinking about ones that would energize and excite an audience of women. Davis said of Scott's film: 
"After that movie came out, people not only recognized me from it, they wanted to talk about the movie with me. It wasn't like, 'Can I have your autograph?' It was like, 'Listen, I gotta tell you, you have no idea. This is what it meant to me. This is how it changed my life.' And it really made me realize something very, very important. Which was how few movies give women an opportunity to come out feeling jazzed and empowered. And I thought, well, I want to make more movies that do that. And then my very next movie was 'A League of Their Own,' which seemed to have the same reaction."
Davis' films after "A League of Their Own" reflected a need to portray more active, leading characters. In 1994, she made "Angie" with Martha Coolidge, a film about a pregnant woman who decides not to marry the father of her child, causing a minor scandal and a journey of self-discovery. That same year, she played an ambitious speechwriter in Ron Underwood's underrated romance "Speechless," wherein she was reunited with Michael Keaton (the two were in "Beetlejuice" in 1988). 
Still An Inspiration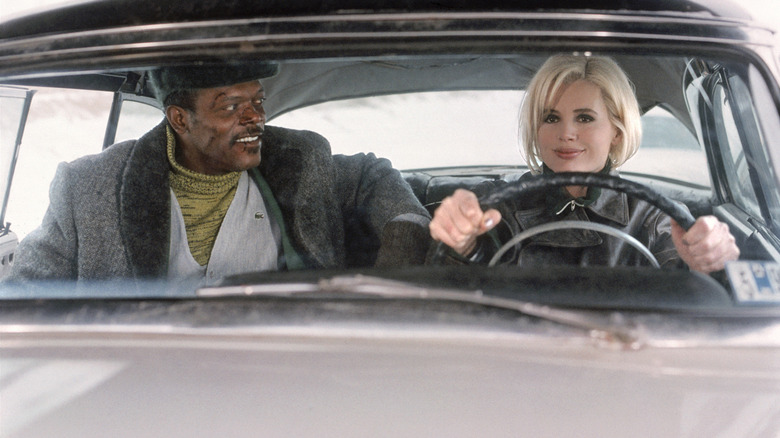 Sadly, it was the enormous financial failure of the expensive 1995 actioner "Cutthroat Island" and the relatively warm reaction to "The Long Kiss Goodnight" in '96 that derailed a lot of Davis' plans. 
Incidentally, "Cutthroat" — despite its bad financial reputation — is perfectly watchable, and "Long Kiss" is exciting, snarky, and incredibly good. 
Davis continued to work and gained a new generation of fans playing Stuart Little's mother in three movies. Her next project is "Pussy Island," the directorial debut of Zoë Kravitz. She also appeared in the third season of the hit TV series "GLOW," and in the first season of "The Exorcist."
In the Vogue interview, it was also said that Davis' role in "A League of Their Own" continued to reach fans for decades. Evidently, Abby Wambach, the world-famous soccer star, watched "A League of Their Own" as a kid and grew up wanting to be a champion. She succeeded. 
Davis, now 66, has started or become involved with several charitable foundations including the Geena Davis Institute on Gender in Media, the Women's Sports Foundation, Dads & Daughters (devoted to gender parity in children's media), and she is a Title IX advocate.
There is no way not to love Geena Davis.
Read this next: The 15 Best Comedy Duos Of All Time
The post How A League Of Their Own Changed Geena Davis Life appeared first on /Film.
/Film – 'Slash Film: How A League Of Their Own Changed Geena Davis Life'
Author: Witney Seibold
Go to Source
August 5, 2022
Hits: 5