Slash Film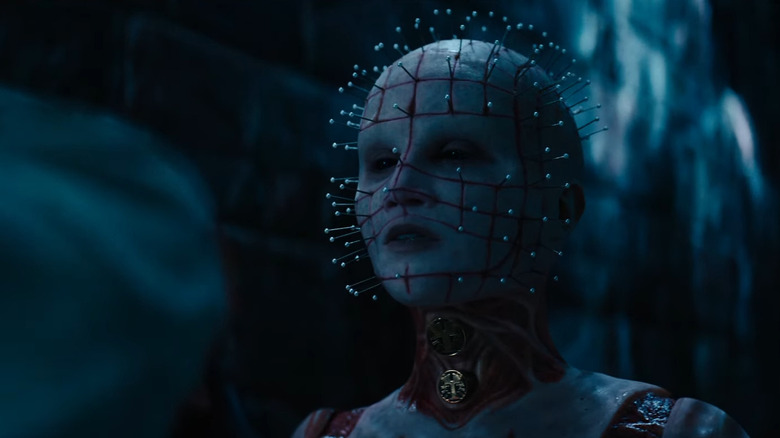 It's only a matter of weeks now until the dark priest of hell shows us all such sights with Hulu's new take on "Hellraiser." Based on Cliver Barker's novella "The Hellbound Heart," this new film from director David Bruckner ("The Night House") seems less concerned with whether it serves as a remake, reimagining, or sequel, and more with the prospect of making Pinhead scary again.
The film stars Hiam Abbass, Odessa A'zion, Adam Faison, Brandon Flynn, Aoife Hinds, Selina Lo, Drew Starkey, and Goran Visnjic. Little is known of what "Hellraiser" is all about besides another group of curious minds toying with the deadly Lament Configuration, but the brief synopsis shows that, much like Ashley Laurence's Kirsty Cotton, another poor soul is about to come face to face with the infamous leader of the Cenobites known as Pinhead:
In the all-new "Hellraiser," a young woman struggling with addiction comes into possession of an ancient puzzle box, unaware that its purpose is to summon the Cenobites, a group of sadistic supernatural beings from another dimension.
The biggest change to this entire story, however, is the person stepping into the role of Pinhead. Doug Bradley played the role with impeccable precision across four theatrical films and four less than stellar direct-to-video sequels.
With a new spin on the "Hellraiser" mythos comes a new actor donning the makeup in Jamie Clayton, who so embodied the spirit of Pinhead that merely standing around in costume gave the cast and crew chills.
'When Pinhead Is There, People Pay Attention'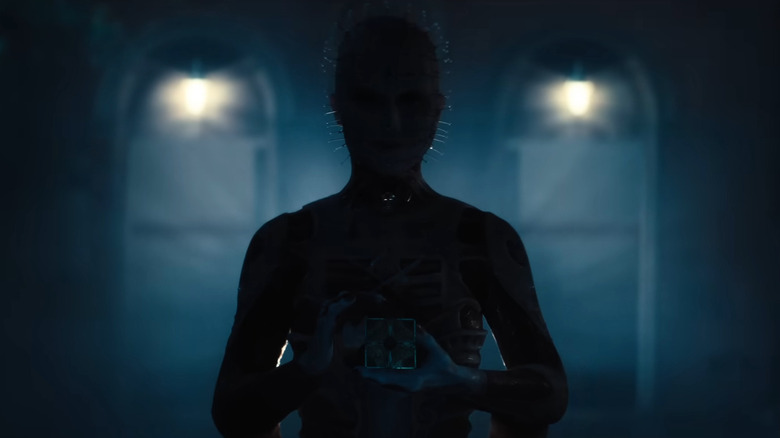 During an interview with Jake's Takes, Brucker said that whenever Clayton came decked out in her full Pinhead attire, it's almost impossible for everyone on set to not feel the weight that comes with being in the presence of the mythic character:
"Sometimes she was rather intimidating to be around I think, not just for me and for the other actors but also for the crew. I have a wonderful picture of her staying in character while we were setting a shot up, just in the labyrinth up against the stone wall with her hand on the wall, just counting down the moments, staying in that hellspace. Probably my eeriest moment on set."
Echoing Clayton's sentiments in that same interview, I would love to see that picture. Going off of the teaser trailer alone, it already looks like she's captured the silent, flesh-ripping appeal of an otherworldly force like Pinhead.
Hulu's "Hellraiser" won't even be the first time Bradley has been replaced as the overseer of pleasurable suffering, as Stephan Smith Collins, in tandem with the vocal talent of Fred Tatasciore, took over the role for "Hellraiser: Revelations," and Paul T. Taylor for "Hellraiser: Judgment." But in terms of gothic frights, in less than two minutes, Clayton already looks like she's going to bring nightmares to a new generation. 
If you can't take my word for it, look to Bradley himself, who tweeted out his confidence in Clayton based on her excellent work in the abruptly canceled "Sense8."
"Hellraiser" will premiere on Hulu on October 7, 2022.
Read this next: Horror Roles That Changed Actors Forever
The post Jamie Clayton's Pinhead Performance Affected Everyone On The Hellraiser Set appeared first on /Film.
/Film – 'Slash Film: Jamie Clayton's Pinhead Performance Affected Everyone On The Hellraiser Set'
Author: Matthew Bilodeau
Go to Source
September 22, 2022
Hits: 0