Slash Film

"Lightyear" isn't the greatest film Pixar has ever produced in its storied history (or even really close to it), but the story is undeniably a sincere one that's largely about inclusivity, acceptance, and coming together to overcome the odds. It's a shame, then, that not all worldwide audiences will be able to catch the space-faring blockbuster on Disney+.
"Lightyear" debuted in theaters to a rather tepid audience response at the box office, leading to questions over whether a movie that isn't about Buzz lightyear the toy, but — never forget — "…the origin story of the human Buzz Lightyear that the toy is based on" was really the best way to (indirectly) continue the "Toy Story" franchise.
Unfortunately, that wasn't the only controversy surrounding the film. Back before Warner Bros. Discovery was stealing all the headlines for all the wrong reasons, rival studio Disney managed to find itself in hot water over the company's political donations that would seem to run counter to its corporate ethos and CEO Bob Chapek's wishy-washy response. In the face of such negative publicity and backlash, Disney all but dragged its feet in announcing that an incredibly chaste same-sex kiss in "Lightyear" would be reinstated — in countries not governed by suffocating censorship laws, at least.
Fast forward a few months and it would seem that the studio is once again not entirely willing to put its money where its mouth is. According to Esquire Middle East (via THR), neither "Lightyear" nor the "Baymax" series will be made available on Disney+ streaming in the Middle East. But while at first glance this may seem like an impressive refusal to capitulate to international censorship, the reality is quite the opposite.
'No Legal Requirement'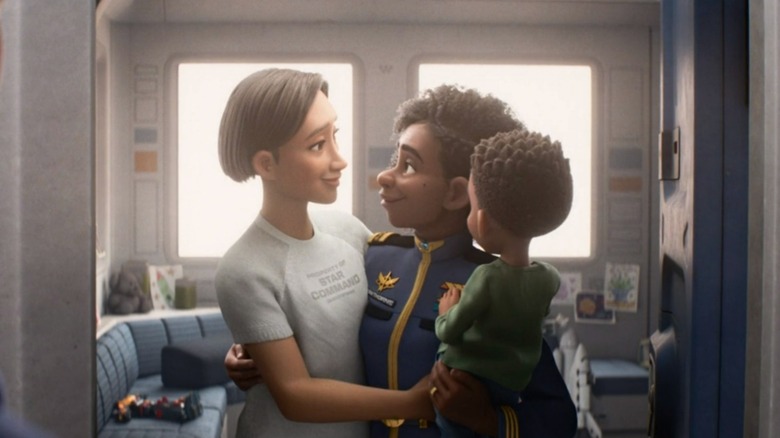 The devil is in the details and those details are quite damning. According to the THR report, there is actually "no legal requirement" necessitating such a drastic measure as to pull both "Lightyear" and "Baymax" from streaming in these countries that are less tolerant to depictions of LGBTQIA+ characters. Unlike theatrical releases, where recent Marvel movies such as "Doctor Strange in the Multiverse of Madness" and "Thor: Love and Thunder" ran into trouble with overseas censors, the streaming space is far less regulated by comparison. Unfortunately, Disney has nonetheless made the move towards appeasement by neglecting to make certain titles available in the first place.
Oddly enough, however, THR reports that more adult-appealing properties like "Doctor Strange" will move forward with traditional streaming availability on Disney+. A Disney spokesperson had this brief pile of meaningless word salad to say when reached for comment:
"Content offerings differ across our many Disney+ markets, based upon a number of factors. Content available should align with local regulatory requirements."
For all the deserved backlash that Disney has received for essentially giving in to oppressive censorship laws — or, as alleged by Pixar employees, actually enforcing such censorship themselves — very little appears to have changed, even when far less appears to be at risk.
Read this next: The 15 Best Pixar Scenes Ranked
The post Lightyear Won't Stream on Disney+ in the Middle East appeared first on /Film.
/Film – 'Slash Film: Lightyear Won't Stream On Disney+ In The Middle East'
Author: Jeremy Mathai
Go to Source
August 5, 2022
Hits: 2