Slash Film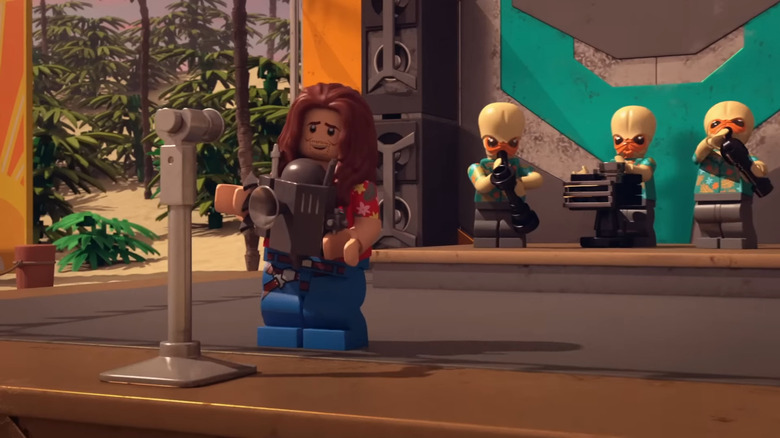 Summer is in full swing, and today Disney+ has released the latest animated special from Lucasfilm and the LEGO group's holiday series. In addition to the "LEGO Star Wars: Holiday Special" and "LEGO Star Wars: Terrifying Tales," we now have "LEGO Star Wars: Summer Vacation." The original special is set shortly after the events of "Star Wars: The Rise of Skywalker," though it clearly jumps between sagas. We've got Rey and Finn, Luke and Leia, Obi-Wan, Darth Vader, and so many others taking their summer vacation and having adventures. There is even a glimpse of a very relaxed-looking Bossk the bounty hunter on the beach.
The special features the voices of Yvette Nicole Brown, Kelly Marie Tran, Anthony Daniels, Billy Dee Williams, and even "Weird Al" Yankovic. To get you hyped for viewing, we have a video of Yankovic's new song for the show, "Scarif Beach Party." If you know and love his work, you can probably guess at the silliness and brilliance of the lyrics. The video even features him on the stage at the beach, backed by the Hawaiian shirt-wearing cantina band. The lyrics include lines like, "Just chill and take a nap now, or grill a ronto wrap now." 
We as a society kind of need a "Weird Al" Yankovic beach party — even in LEGO form — at this particular moment in time.
Scarif Beach Party
For a summer beach anthem, "Scarif Beach Party" kind of slaps, as the kids say. Plus, the video is really cute. You've got the Emperor and Darth Vader in tank tops doing a butt bump dance of some sort (the Emperor really should be wearing sunscreen), Obi-Wan in a Hawaiian shirt, clearly not in his "Obi-Wan Kenobi" series sad phase, and a Force ghost in scuba gear. Jabba is there, dancing in a festive hat, but then, he always did seem like a guy who knew his way around a party. 
Between the trailer showing us people limboing under a lightsaber — which doesn't seem at all safe — and Force cheating at volleyball, it makes you wonder if you can use the Force to keep sand off your towel. Sure, there are uses for the Force that are great for battle and saving the universe, but come on. There have to be practical uses, too. You can't tell me that no one ever thought of that before. Even Jedi must get a day off here and there. 
"LEGO Star Wars: Summer Vacation" is streaming right now on Disney+. 
Read this next: The 11 Best Star Wars Droids Ranked By Usefulness
The post Listen To a New Weird Al Song from LEGO Star Wars: Summer Vacation appeared first on /Film.
/Film – 'Slash Film: Listen To A New Weird Al Song From LEGO Star Wars: Summer Vacation'
Author: Jenna Busch
Go to Source
August 6, 2022
Hits: 1