Slash Film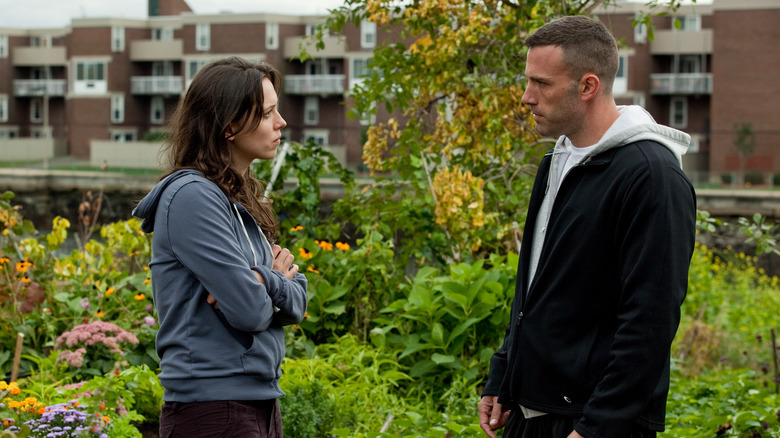 Ben Affleck's career was in a downward spiral in the mid-2000s. The actor had shown early promise in the mid-1990s thanks to his Academy Award-winning screenplay for "Good Will Hunting" and featured parts in ensemble comedies like "Mallrats" and "Dazed and Confused." Yet, as his stardom increased, the quality of his roles declined. He went on to star in such notorious critical disasters as "Gigli," "Daredevil," "Surviving Christmas," and "Reindeer Games."
However, Affleck had an untapped talent for direction, and he was interested in stepping behind the camera. After his impressive directorial debut "Gone Baby Gone" in 2007, Affleck returned to his hometown of Boston for another meticulous crime drama focused on the morally gray line between cops and criminals. With 2010's "The Town," he created a modern bank robbery hit that was inspired by such action directors as Michael Mann. There were clearly classic cinematic influences on "The Town," but Affleck's stunning new vision modernized the heist epic and became a sensation.
Affleck also stepped back in front of the camera in "The Town" to play notorious bank robber Doug MacRay who operates an elite heist team alongside his childhood friend Jem Coughlin (Jeremy Renner). Renner's wild, unpredictable performance earned him an Academy Award nomination for best supporting actor.
If you loved "The Town," then these great crime movies are also worth watching.
Gone Baby Gone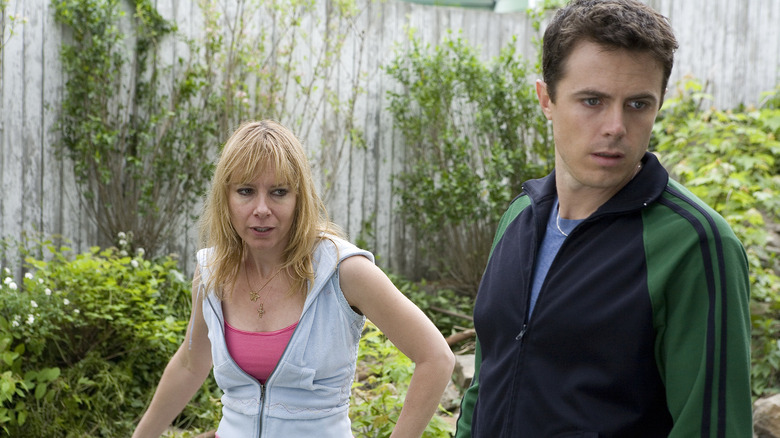 The visual, technical, and emotional mastery that Affleck showed as the director of "The Town" was evident from his incredible first feature "Gone Baby Gone." Like "The Town," this crime drama set in Boston also focuses on a compelling mystery that forces characters on both sides of the law to question their mortality and morality while asking the audience to weigh the consequences of their decisions. Affleck is a unique filmmaker because his films are blend of populist genre entertainment and elevated crime epics that are intellectually stimulating and compulsively entertaining.
Although "Gone Baby Gone" is the only film of his directorial career in which Affleck was not in front of the camera, he still kept the star power in the family. Affleck's cousin and "Good Will Hunting" co-star Casey Affleck stepped into the lead role of Boston Police Detective Patrick Kenzie, a straight-laced cop who is called in to investigate the disappearance of a missing child. The kidnapping case grows more complex when Kenzie begins questioning the girl's mother (Amy Ryan), a compulsive drug addict who clearly does not raise her child in ideal circumstances. A conflicted Kenzie is forced to question his investigation. If he rescues the young girl, will her life be any better?
Benefitting from Affleck's firsthand knowledge of Boston, the film keeps the viewer engaged throughout as Kenzie discovers a criminal conspiracy within the police force. The film ends with a shocking twist involving Kenzie's captain, Jack Doyle (Morgan Freeman). 
Live By Night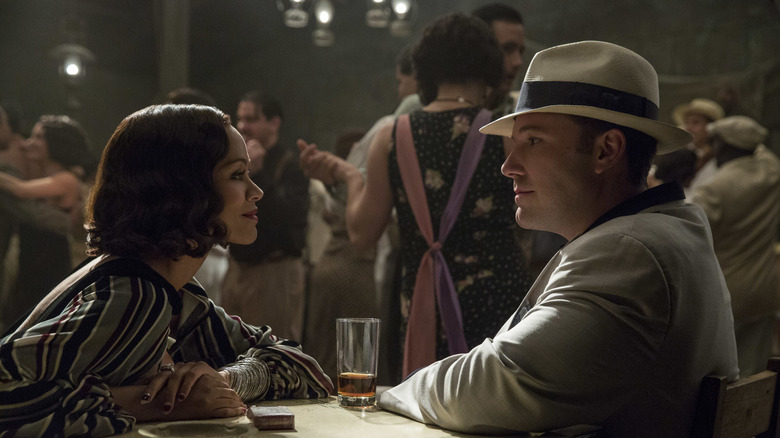 After the success of "The Town," Affleck's career reached even greater heights when he helmed the 2012 drama "Argo." "Argo" was acclaimed as an instant classic, and Affleck shot up the list of the most exciting filmmakers working in Hollywood. Unfortunately, he was famously snubbed by the Academy Awards when he failed to garner a nomination for best director. That oversight sparked industry outcry, but "Argo" went on to take home best picture over competition like "Lincoln," "Zero Dark Thirty," "Life of Pi," and "Django Unchained."
Yet, Affleck's return to the director's chair after his success with "Argo" was not met with the same acclaim as his previous films. Released in 2016, "Live by Night," a passion project for the director, was a box office disappointment that was met with sour critical reaction and failed to receive any major nominations. It was a rough year for Affleck who had just taken a beating for his involvement in "Batman v. Superman: Dawn of Justice." However, the initial response to "Live by Night" was not a fair one. "Live by Night" is another exciting heist epic that showed Affleck's amazing ability to create exciting sequences of tension and suspense.
Set in 1926, the film stars Affleck as Boston bank robber Joe Coughlin who is shamed by his father Thomas Coughlin (Brendan Gleeson). Joe falls in love with the beautiful Emma Gould (Sienna Miller), but he's forced to leave his hometown for California with the Irish Mafia on his heels.
Thief
When "The Town" debuted, it instantly sparked comparisons with other bank robbery classics, most notably the work of director Michael Mann. An eclectic filmmaker known for creating masterful and atmospheric sequences of suspense, Mann has been a prominent figure within crime cinema since he began as executive producer on the classic '80s cop series "Miami Vice." Like Affleck, Mann draws a fine line between populist entertainment and elevated thrillers. His films are incredibly stylized and have unique visuals that are engaging on a visceral level but also raise serious moral questions about the nature of crime and the pursuit of justice.
Mann's 1995 bank heist thriller "Heat" is most frequently compared to "The Town," but Mann's interest in the crime genre was evident from the very beginning of his career. As with Affleck, Mann's first feature announced the writer-director as a new voice who could reinterpret classic tropes in his own style. His debut film, 1981's "Thief," remains one of the most stirring directorial debuts of all time, and forty years later, it's still hailed as a beloved classic.
Like "The Town," "Thief" focuses on a morally flexible bank robber who attempts to escape the consequences of his lifestyle but struggles to leave the only profession he knows. James Caan gives a terrific performance as Frank, a jewel thief who is called back to join a heist team after being released from prison.
The Accountant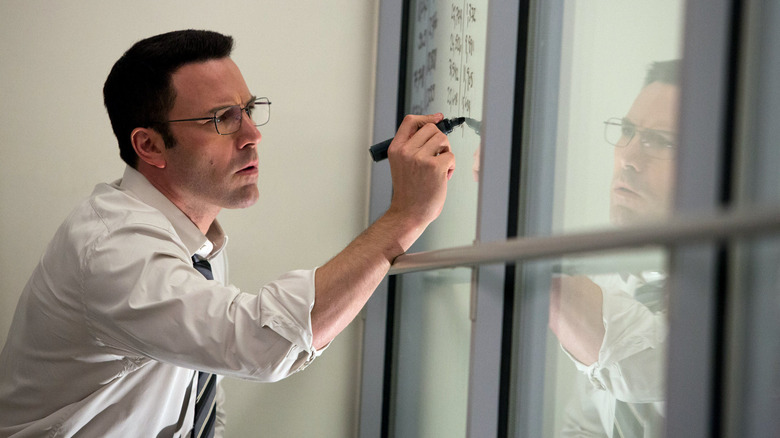 Doug MacRay is not a traditional action hero in "The Town." Affleck transitioned from playing a crowd pleasing hero who delivered snappy one liners to a more serious dramatic character. He may have experimented with action films earlier in his career with roles in films like "Reindeer Games" and "Daredevil," but "The Town" showed his maturation as an action star. MacRay isn't crafted as an instantly likeable character. His activities endanger others, and he risks losing it all at any moment. Despite these qualities, he's still a character that audiences wanted to learn more about. 
As the off-the-grid assassin and detective Christian Wolff, Affleck plays yet another complex character in the 2016 film "The Accountant." Wolff fronts a public persona as an accountant who helps deliver insightful legal advice to those in need. Using his connections, he's able to infiltrate the operations of major government, military, and financial institutions. In the film, he aims to expose corruption and investigate a major pharmaceutical conspiracy. Like MacRay, Wolff struggles to form meaningful relationships because of his autism. Although his problem solving skills and memory are very advanced, he is quite awkward in social scenarios.
Hell Or High Water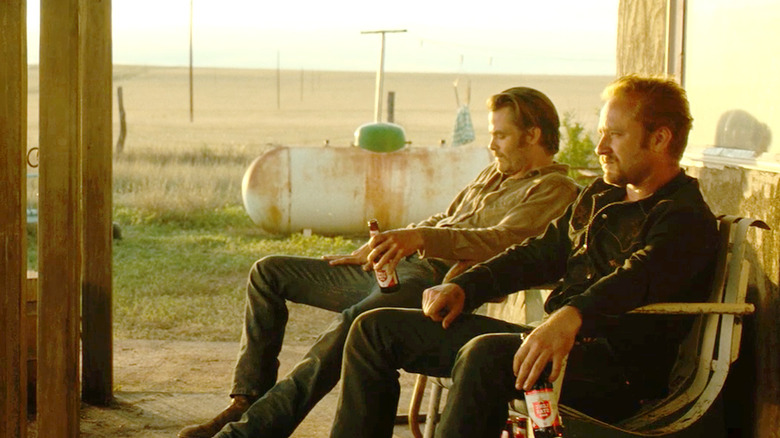 Despite being bank robbers, the characters in "The Town" are not inherently greedy. They turn to crime out of desperation. In many ways, Doug and Jem see themselves as a strange breed of activists because their robberies help expose the corrupt and brutal tactics of the Boston Police Force. They are more compelling heroes than the criminals in most heist films because they have a larger goal in mind which allows the viewer to sympathize with their actions.
Released in 2016, "Hell or High Water" is another great heist film that focuses on men who have a compelling reason for engaging in bank robberies. In the film, Texas bank robbers Toby (Chris Pine) and Tanner Howard (Ben Foster) are about to lose their mother's farm to the Midland Banking system when they're unable to make the payments. This not only risks their own financial futures but also means that Toby may not be able to send his kids to college and continue to provide for them. They begin a string of bank robberies across Texas but only steal small bills. That way, they are robbing the bank without harming average citizens who are just as desperate as they are.
Toby is focused and tries to control his brother's wild temperament that gets them into trouble. Like Doug and Jem, Toby and Tanner have an engaging relationship that adds both humor and heart to the story. 
American Animals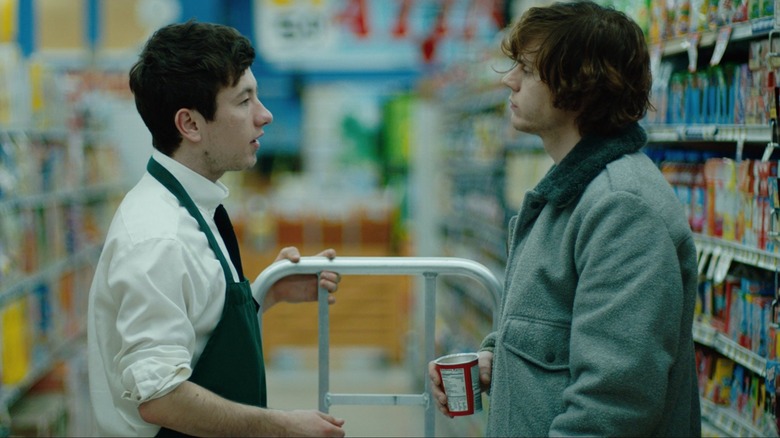 Great heist movies focus on the suspense and anxiety involved in pulling off a complicated robbery. "The Town" shows the pressure that Doug faces even when he's not in the middle of a complex operation. A chaotic robbery at the beginning of the film introduces Doug to bank employee Claire Keesey (Rebecca Hall) who is traumatized after she's threatened by his crew. Doug feels very guilty about the way he treated her and meets up with Claire days later. Soon, they engage in a romance. However, Claire has no idea that Doug is the man from the robbery. Doug faces pressure about revealing his secret to her for fear of damaging their relationship.
The 2018 heist thriller "American Animals" is a unique blend of fact and fiction that focuses on many of these same post-heist anxieties and feelings of regret. Based on a true story, the film merges documentary and drama, incorporating real interview footage with the subjects as they look back on their crimes. The story centers around the four Transylvania University students, Warren Lipka (Evan Peters), Spencer Reinhard (Barry Keoughan), Chas Allen (Blake Jenner), and Erik Borusk (Jared Abrahamson), who rob their school's library in order to steal a rare book that they can sell on the black market. During the heist, they are forced to torture library clerk Betty Jean Gooch (Ann Dowd) which makes for an unexpected complication that hangs over them after they complete the mission.
Triple 9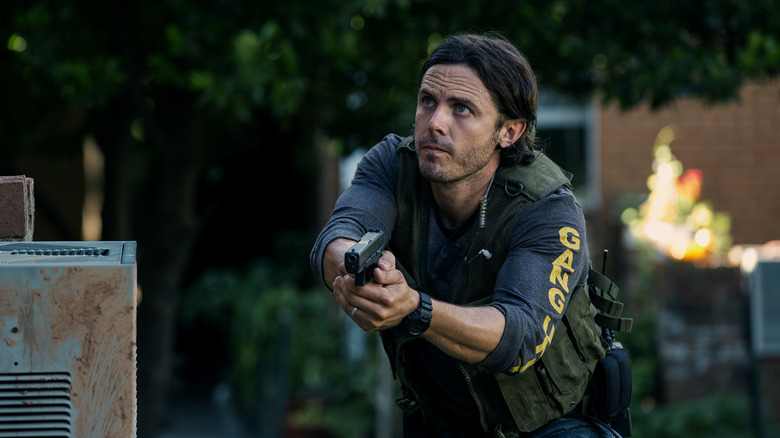 "The Town" showed a complex understanding of the political, social, and economic ramifications of bank robberies, depicting heists as much more than simple standoffs between heroes and villains. There are various organized crime players and low level criminals that influence Doug and Jem's decisions, and they are forced to deal with conflicting loyalties to employers and family. The depiction of law enforcement is similarly complex. The Boston Police is seen as corrupt and overtly brutal in solving crimes. The presence of FBI Special Agent Adam Frawley (Jon Hamm) further complicates the situation.
"Triple 9" shows a similarly dynamic heist in which various players and institutions are involved. Set in present day Atlanta, the film follows the aftermath of a bank robbery helmed by former Navy SEALs Michael Atwood (Chiwetel Ejiofer) and Russell Welch (Norman Reedus), former cop Gabe Welch (Aaron Paul), and Atlanta detectives Marcus Belmont (Anthony Mackie) and Franco Rodriguez (Clifton Collins Jr.). Marcus returns to his investigative profession and struggles when his partner Chris Allen (Casey Affleck) begins looking into the robbery. Allen is advised by his uncle Jeffrey (Woody Harrelson) that the systemic corruption runs deep. The deal grows more complicated due to Atwood's relationship with Russian mobsters such as the ruthless Irina Vlaslov portrayed by Kate Winslet.
Like "The Town," the heist sequences in "Triple 9" are frantic and exciting as the team's plans go wildly wrong, and they are forced to improvise.
Widows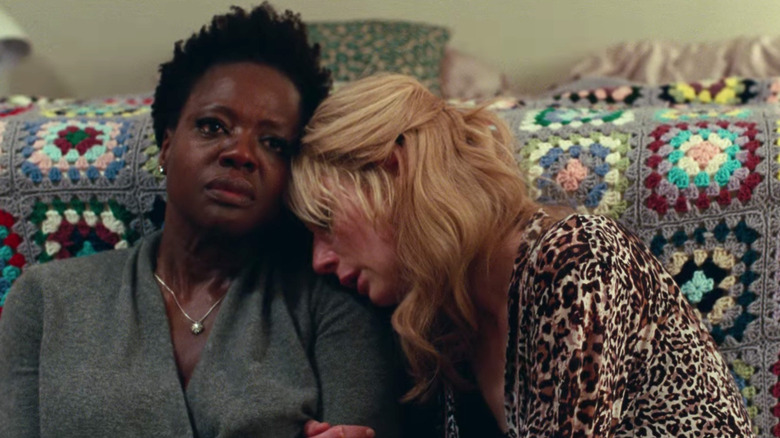 "The Town" isn't just an exciting action thriller. It's an emotional film about characters who are forced into a dangerous career. Doug has grown up in poverty and was mistreated by his gangster father (Chris Cooper) who introduced him to the criminal life at a young age. The disappearance of Doug's mother left him with no moral guidance and led him down the route of becoming a bank robber. Only as an older man is he able to reflect on how he developed and the mistakes he's made. Doug's careful consideration of his own values is heartbreaking to watch.
Steve McQueen's brilliant 2018 heist thriller "Widows" is a similarly emotional drama focused on characters who are forced to plan a major robbery through no fault of their own. The film begins in shocking fashion when bank robbers Harry Rawlings (Liam Neeson), Florek (Jon Bernthal), and Carlos (Manuel Garcia-Rulfo) are killed during a job for mob boss Jamal Manning (Brian Tyree Henry). At Harry's funeral, Jamal approaches the fallen robber's widow Veronica (Viola Davis) and forces her to pay the money that her husband owes him. Consequently, Veronica is forced to take over Harry's last planned job to rob the home of corrupt power broker Tom Mulligan (Robert Duvall) whose son Jack (Colin Farrell) is running for mayor against Jamal. She recruits Florek's widow Alice (Elizabeth Debicki), Carlos' widow Linda (Michelle Rodriguez), and babysitter Belle (Cynthia Erivo) to join her crew.  
No Sudden Move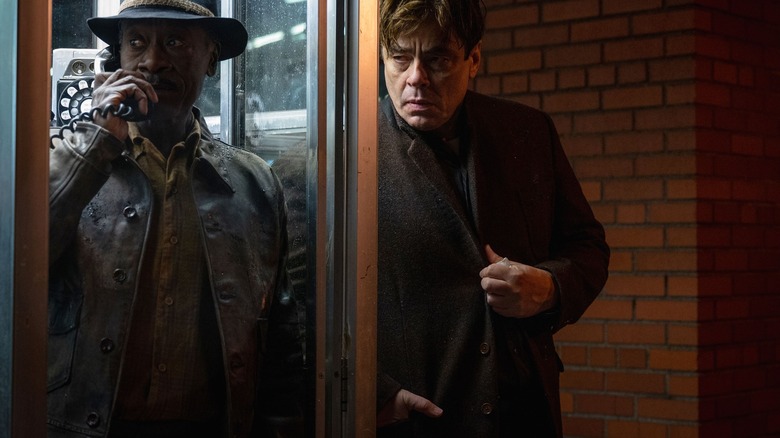 A gritty atmosphere is essential to a great heist thriller. "The Town" was so successful largely because its Boston setting feels like a character itself. Affleck grew up in Boston and knows the city very well. His special relationship with his hometown allowed him to include specific references that make the film seem more personal. As a result, the film is very realistic and not generic as is the case with many heist films.
Steven Soderbergh is a very detail-oriented filmmaker who excels at making each of his projects feel personal. Soderbergh's great heist films include the "Ocean's" trilogy, "Out of Sight," and "Logan Lucky." His most recent film "No Sudden Move" took a historical approach to the genre, exploring how poor economic circumstances and racial tensions can influence the heist itself. Set in 1950s Detroit, the film follows gangster Curt Goynes (Don Cheadle) who is forced by his recruiter Doug Jones (Brendan Fraser) to steal critical documents from business executive Matt Wertz (David Harbour). Goynes isn't sure about the assignment when he's teamed with violent criminals Russo (Benicio del Toro) and Charley (Kieran Culkin). 
Matt has his own criminal ties that he can't reveal to his wife Mary (Amy Seimetz) and son Matt Jr. (Noah Jupe), but he's forced to be honest when questioned by investigating officer Detective Joe Finney (Jon Hamm). Meanwhile, Goynes and Russo discover they've been targeted by mob boss Frank Capelli (Ray Liotta).
Killing Them Softly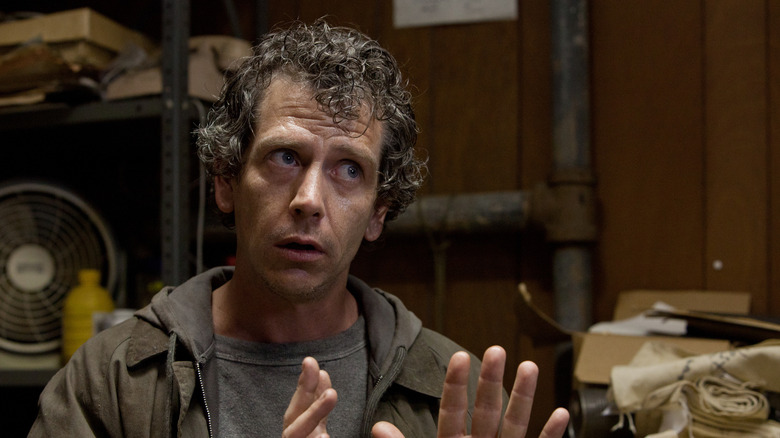 "The Town" is a complex film that shows the ramifications of Doug's actions on multiple characters. He's skeptical about admitting his profession to Claire, and he watches as many of the men he employs perish during their activities. Director Andrew Dominik explored the ramifications of a robbery on a large ensemble with his politically-charged 2012 thriller "Killing Them Softly."
Set amidst the 2008 financial crisis and the presidential election of Barack Obama, the film tells the story of the robbery of a Mafia-fronted poker tournament by drug addicts Frankie (Scoot McNairy) and Russell (Ben Mendelsohn). The game's orchestrator Markie Trattman (Ray Liotta) is under pressure because he once plotted a fake robbery to steal Mafia money for himself. The Mafia dispatches the ruthless hitmen Jackie (Brad Pitt) and Mickey (James Gandolfini) to deal with both Markie and the robbers. Jackie reveals to Mickey, who was recently in prison, that he may have to take the fall for the crime.
The Great Train Robbery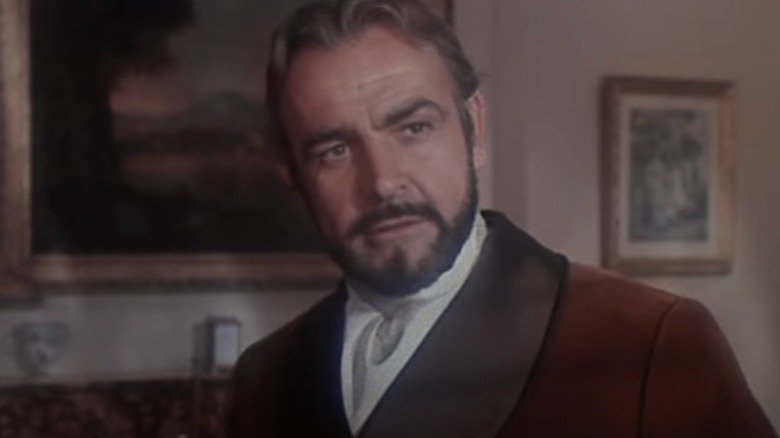 "The Town" may not seem like a traditional crowd pleaser, but it's a very exciting film that is compulsively entertaining. Heist films originated as pop entertainment. There is an inherently exciting nature to seeing a team of criminals meticulously plot out a mission that inevitably goes awry in one way or another. 1978's "The Great Train Robbery," based on the novel of the same name by Michael Crichton (who also directed the film), is one of the most entertaining heist pictures ever made.
Set in 1855 London, the film follows the robbery of a Folkestone train by the charismatic and wealthy Edward Pierce (Sean Connery) and pickpocket Robert Agar (Donald Sutherland). Pierce recruits his mistress Miriam (Lesley-Anne Down) and chauffeur Barlow (George Downing) to join the team. The train robbers then blackmail railroad security officer Burgess (Michael Elphick) into assisting them. The entire ensemble has great chemistry, and Edward's quips and musings about the pretentious nature of high society bring humor to the film. Also adding comic relief is Robert who's forced to don a number of ridiculous disguises throughout the heist.
Triple Frontier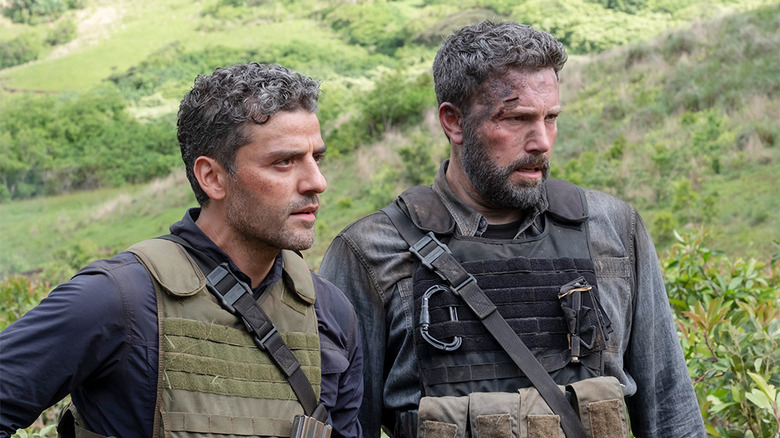 Ben Affleck has rarely reached the heights that he attained with "The Town" in the decade since the film's release. The character of Doug MacRay remains one of the best roles of his career. 
However, Affleck's skill as an actor in the heist genre was apparent once more when he co-starred in the 2019 thriller "Triple Frontier." The film focuses on veterans Tom "Redfly" Davis (Affleck), Santiago "Pope" Garcia (Oscar Isaac), William "Ironhead" Miller (Charlie Hunnam), Benny Miller (Garrett Hedlund), and Franco "Catfish" Morales (Pedro Pascal) who are given a contract to rob a drug lord in Columbia. All five men wrestle with post-traumatic stress disorder but see the benefits in the highly lucrative operation. Affleck as Redfly is especially conflicted, feeling the dual pressures of providing for his children and leading his fellow veterans into danger.
With "Triple Frontier," Director J.C. Chandor fuses the heist genre and the survival thriller with the characters forced to traverse dangerous jungle terrain throughout the mission.
Read this next: The 20 Best Heist Movies Of All Time
The post Movies Like The Town You Definitely Need to See appeared first on /Film.
/Film – 'Slash Film: Movies Like The Town You Definitely Need To See'
Author: Liam Gaughan
Go to Source
January 12, 2022
Hits: 0