Slash Film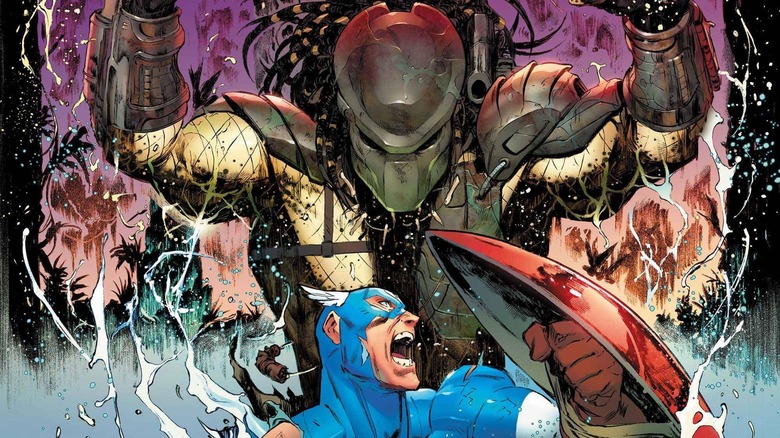 (Superhero Bits is a collection of stories, updates, and videos about anything and everything inspired by the comics of Marvel, DC, and more. For comic book movies, TV shows, merchandise, events, and whatever catches our eye, this is the place to find anything that falls through the cracks.)
In this edition of Superhero Bits:
Marvel is trying hard to keep "Doctor Strange" spoilers off of social media.
DC's "Wonder Twins" movie may have had its plug pulled.
Sony celebrated 20 years of "Spider-Man" movies.
Marvel Comics goes full "Predator" this summer.
A Sneak Peek At The Morbius Special Features
Sony recently revealed that "Morbius" will be coming home on digital later this month, and the Blu-ray release is set for June. They have offered a little preview of what special features viewers can expect. It's hard to imagine special features are going to be enough to entice a ton of people to pick this one up given how poorly it ultimately performed, but for those who did dig the film, this is but a glimpse at what goods the studio has in store.
Check Out This Man Of Steel Storyboard
"Man of Steel" is the movie that started the DCEU as we know it nearly a decade ago, and artist Jay Oliva recently decided, just for funsies, to reveal a storyboard from Zack Snyder's 2013 film. This appears to be from the movie's third act fight, which occurs between Henry Cavil's Superman and Michael Shannon's Zod. It offers just a little window into how this stuff ultimately makes it from the page to screen.
Is The Moon Knight Finale A Series Finale Or A Season Finale?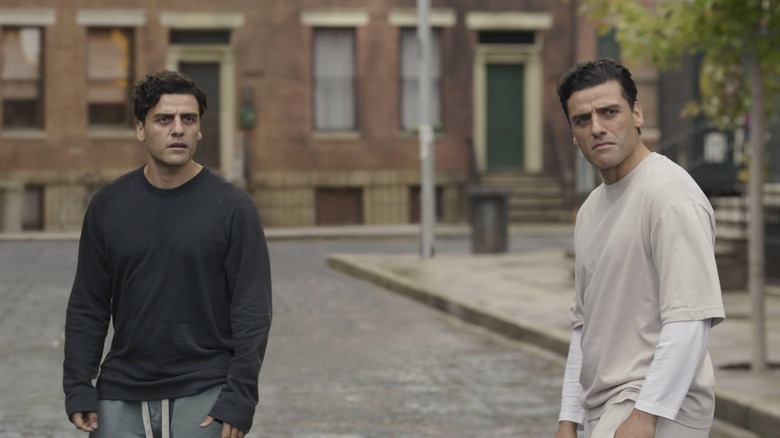 Get those tinfoil hats out, folks, because we've got questions that need answering. Recently, Marvel released a trailer for the "Moon Knight" finale, which arrives on Disney+ tomorrow. Initially, the trailer was released with phrasing on social media that billed it as a "series finale." However, that has since been changed to state it is a "season finale," even though this show has, up to this point, largely been billed as a limited series. So, does this mean Marvel Studios has plans for a second season? Are they just covering their bases? It's tough to say! But the change was deliberate and is worth taking into account as we see how the finale (be it of the series or just a first season) wraps up.
The Rick And Morty Mystery On The Guardians 3 Set Will Finally Be Solved Thursday
For weeks now, someone has been giving director James Gunn various toys from "Rick and Morty" while filming on "Guardians of the Galaxy Vol. 3" has been underway. It's been a remarkably consistent gag, but the person behind this kind-spirited little prank hasn't been revealed … yet. As the above tweet states, all will be revealed come Thursday, as the identity of this individual will be secret no longer. So, who is behind all of this? Place your bets, please.
Here's Why Black Adam Was Delayed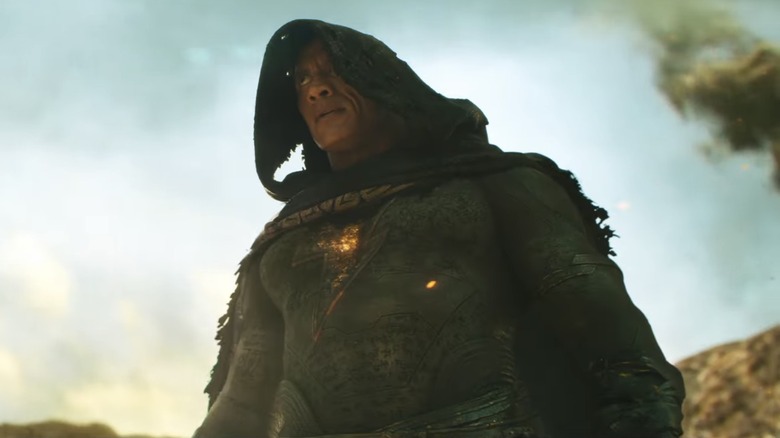 We've been waiting years to see Dwayne Johnson's "Black Adam" movie, and even though it is still coming this year, it was pushed out of summer and into the fall, with an October release date now on the books. So, why did Warner Bros. push the film back yet again? In speaking to The Wrap, producer Hiram Garcia explained that a lot of it has to do with a delay with visual effects brought on by the pandemic.
"I think we're just in a world right now where there was a huge and understandable freeze-up when the pandemic hit and a lot of productions were put on hold. Now that the industry has really roared back, the pipeline for VFX is so jammed. Obviously all these superhero movies just require so much VFX, and we're just in a situation where the majority of the VFX houses are just completely swamped with work."
"Black Adam" is currently set to hit theaters on October 21, 2022.
Celebrating 20 Years Of Spider-Man Movies
As of today, Sam Raimi's "Spider-Man" is officially 20 years old, and that's a big deal, as this is a watershed moment in superhero movie history. The movie was a gigantic hit and cemented the superhero movie trend we are still largely living in today. To commemorate the occasion, the folks at Sony have put together the above video highlighting Tobey Maguire's first turn as Peter Parker in 2002 that paved the way for one of cinema's largest franchises that is still going strong today, especially following the release of last year's "No Way Home." Check out the video for yourself above.
Wait, Did The Wonder Twins Movie Get Canceled At The Last Minute?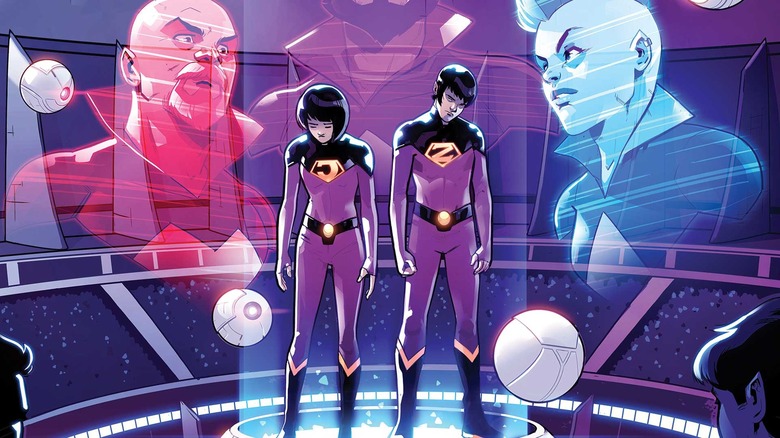 What's time is it? It's rumor time! We have been hearing quite a bit about that "Wonder Twins" movie as of late, with KJ Apa and Isabel May recently cast in the lead roles. However, a new report from That Hashtag Show claims that the movie has been scrapped just ahead of its planned production. No reason was provided, but the report says filming was set to begin in early July. It appears as though the recent merger with Discovery and Warner Bros. may well have had something to do with it, though that is somewhat speculative at the moment. In any event, it seems like this project might be a casualty of a gigantic media merger. Take all of this with a grain of salt until it's actually confirmed.
Marvel Is Blocking Comments On Social Media To Prevent Doctor Strange Spoilers
"Doctor Strange in the Multiverse of Madness" held its premiere last night, and that means lots of people have now seen the movie. That also means all of the movie's secrets can no longer be safeguarded. To help prevent spoilers ahead of the release to the general public this weekend, Marvel has disabled comments across a variety of its social media platforms (as indicated by the above Instagram post) for the time being. This is a pretty dramatic measure, but one that is not altogether unwarranted as very spoiler-y stuff was already floating around on Twitter yesterday. Be careful out there.
Predator Takes Over Marvel Comics Covers In July
Lastly, Marvel Comics has revealed that a series of variant covers for a number of titles across the publisher's lineup will feature none other than the Predator. Yes, that Predator, the one from "Predator." The alien beast will do battle with a ton of Marvel heroes, ranging from Captain American to Spider-Woman, and everyone in between. This is happening in honor of the new "Predator" series that is also being launched by Marvel in July. You can see some of the covers in the above tweet, but 20 of them that have been revealed thus far. Those who are interested in getting details on the full lineup can do so by clicking here.
Read this next: /Film's Top 10 Movies Of 2021
The post Superhero Bits: Marvel Tries To Curb Doctor Strange Spoilers, DC's Wonder Twins Movie May Be Canceled & More appeared first on /Film.
/Film – 'Slash Film: Superhero Bits: Marvel Tries To Curb Doctor Strange Spoilers, DC's Wonder Twins Movie May Be Canceled & More'
Author: Ryan Scott
Go to Source
May 3, 2022
Hits: 0