Slash Film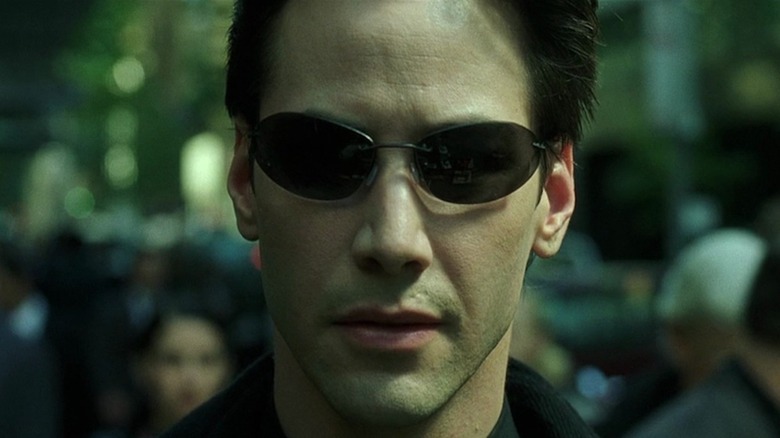 Keanu Reeves was one of the most exciting movie stars of the 1990s. Now, he's more popular than ever. Although there was a brief period where his films were not as successful, Reeves had a major career comeback in 2014. He starred in the action film "John Wick," which was directed by the stuntmen Chad Stahelski and David Leitch. "John Wick" proved that Reeves hadn't lost any of the charisma that had made him so beloved in the first place.
In addition to the "John Wick" sequels, Reeves has also recently returned to some of his other iconic roles. Reeves and his "Bill & Ted" co-star Alex Winter had teased another installment in the franchise for many years. Nearly 30 years after the last film, 1991's "Bill & Ted's Bogus Journey," the latest sequel "Bill & Ted Face The Music" was finally released in summer 2020. Reeves also reprised his role as Neo in 2021's sequel "The Matrix Resurrections." It's not like Reeves is going away anytime soon. "John Wick: Chapter 4" is slated to come out in 2023, and Reeves will also voice Bruce Wayne/Batman in the animated comedy "DC League Of Super-Pets."
Here are the 20 greatest Keanu Reeves movies, ranked.
20. To The Bone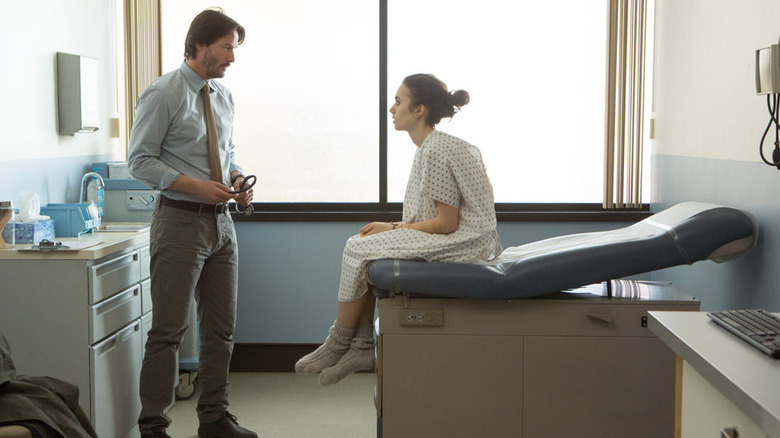 Keanu Reeves has the reputation of being one of the few genuinely nice people working in Hollywood. There is a reason that Reeves' work still resonates with audiences; he seems like an authentically caring person. Reeves was perfectly cast as a sensitive medical professional in the 2017 drama "To the Bone." He delivers a powerful performance as an untraditional doctor, who helps young adults that are dealing with eating disorders.
The film follows the young woman Ellen (Lily Collins), who recently dropped out of college. Ellen has anorexia. Her stepmother, Susan (Carrie Preston), decides to send her to an in-patient facility. While she feels uncomfortable living with other young adults, Ellen trusts the insights of the specialist Dr. William Beckham (Reeves). Beckham is unlike any other doctor that she has ever worked with. He helps her to heal both physically and emotionally. The film treats its subject material very seriously; however, Reeves adds some comic relief when it is appropriate.
If you are struggling with an eating disorder, or know someone who is, help is available. Visit the National Eating Disorders Association website or contact NEDA's Live Helpline at 1-800-931-2237. You can also receive 24/7 Crisis Support via text (send NEDA to 741-741).
19. The Night Before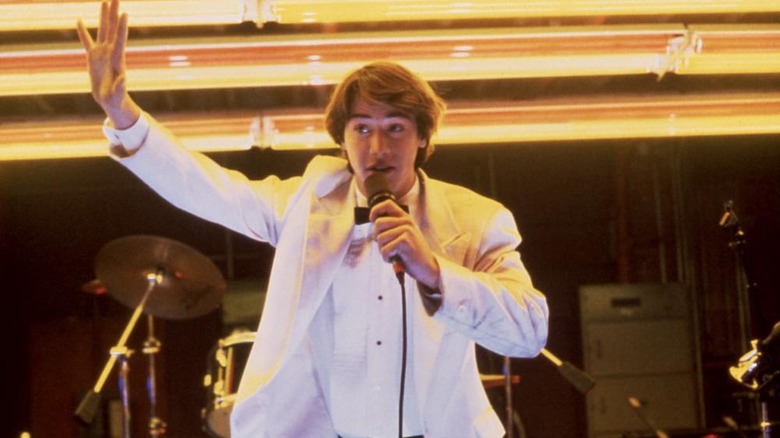 Keanu Reeves has starred in many great films, but he also has the unique ability to redeem projects that are clearly beneath him. The 1988 teen comedy "The Night Before" is no classic. It was clearly trying to replicate the success of other high school comedies from the 1980s. "The Night Before" has an all-too familiar premise, and a forgettable series of jokes. Some of the off-color humor in the film has not aged very well.
"The Night Before" wouldn't be worth remembering at all if it wasn't for Reeves. He manages to redeem the film. Although "The Night Before" often feels mean-spirited, Reeves acts as a force of positivity. The film follows the geeky slacker Winston Connelly (Reeves), who manages to score a date with the cheerleader Tara Mitchell (Lori Loughlin). Tara only agreed to go to Prom with Winston after losing a bet. After they get lost on their way to the school dance, Tara begins to open up to Winston.
18. Side By Side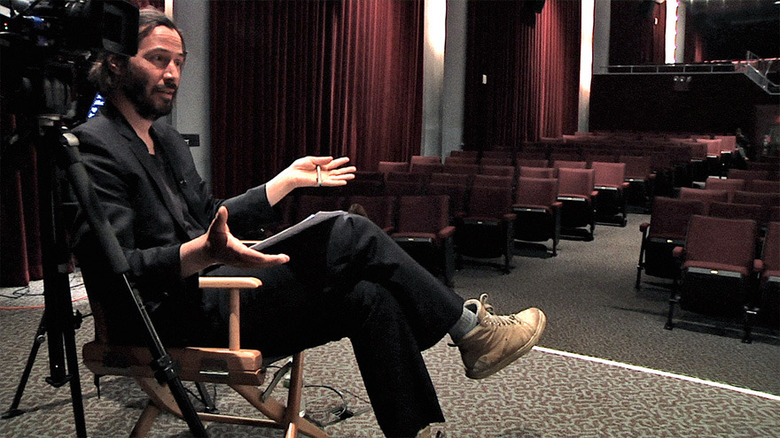 Keanu Reeves has collaborated with some of the greatest directors of all-time. Any actor who has worked with such masters of their craft as the Wachowski sisters, Gus Van Sant, Ron Howard, Stephen Frears, Francis Ford Coppola, and Sam Raimi tends to learn a thing or two about the technical aspects of filmmaking. Reeves' experience made him the perfect person to explain the rapid ways that cinema has changed with the advent of new technology. The 2012 documentary "Side by Side" explores the differences between digital production and photochemical film creation.
Reeves hosted and produced the documentary. "Side by Side" explores the history of movies, and how the "filmmaking" process works. It also explains why digital technology is so influential on modern movies. "Side by Side" features insights from many well-known directors. They explain their preference between digital and film. Reeves does an excellent job conducting these interviews.
17. The Matrix Resurrections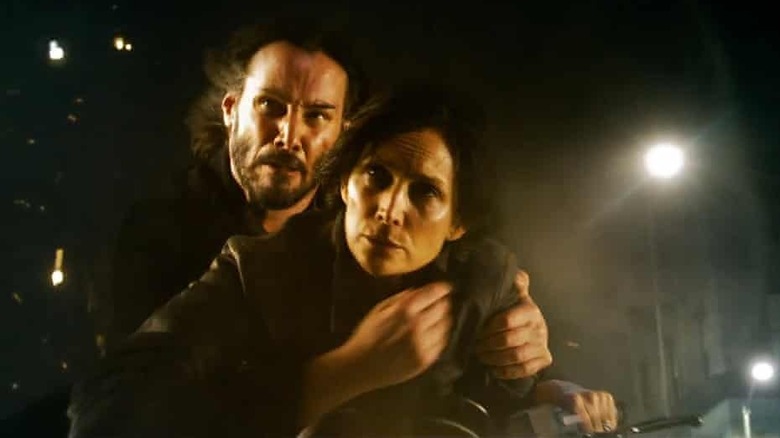 "The Matrix" was a phenomenon. However, fans are divided on whether the next two films, "The Matrix Reloaded" and "The Matrix Revolutions," are worthy continuations of the first film's legacy. A fourth installment had a lot to live up to; it had to continue the complex story that had already been established, and examine the different ways that the first trilogy has been incorporated into popular culture. 2021's "The Matrix Resurrections" is a fascinating and subversive film. Keanu Reeves returns to his iconic role of Neo, and gives his strongest performance as the character.
In "The Matrix Resurrections," Neo is trapped in a warped version of our reality. He is a video game designer, who created a popular video game called "The Matrix." Neo is visited by a programmed version of Morpheus (Yahya Abdul-Mateen II). Morpheus tells him the truth. Even though there is a lot of action, "The Matrix Resurrections" is really a love story. Neo and Trinity (Carrie Anne-Moss) fall in love again, after being separated at the end of "The Matrix Revolutions." It is the most sincere film in the series yet.
16. Bill & Ted Face The Music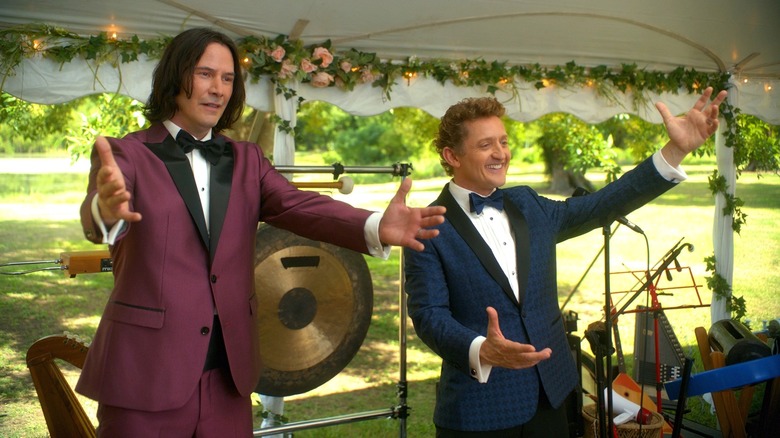 Great comedy sequels are few and far between. The first "Bill and Ted" sequel, 1991's "Bogus Journey," was a surprisingly great continuation of the franchise. Fans of the first two films speculated about a third installment for almost three decades before "Bill & Ted Face The Music" finally went into production. It was well worth the wait. Surprisingly, "Bill & Ted" became one of the few film franchises with three genuinely great installments.
The third film takes place in 2020, where the Wyld Stallyns have failed to live up to their potential. Bill and Ted had thought that they would bring the world together with their music, but it hasn't happened yet. They decide to travel in time to find a version of themselves who have already written the perfect song. However, Bill and Ted realize that their real mission was to raise their daughters. Thea Preston (Samara Weaving) and Billie Logan (Brigette Lundy-Paine) become musicians worthy of their fathers. It is a heartfelt passing of the torch.
15. Toy Story 4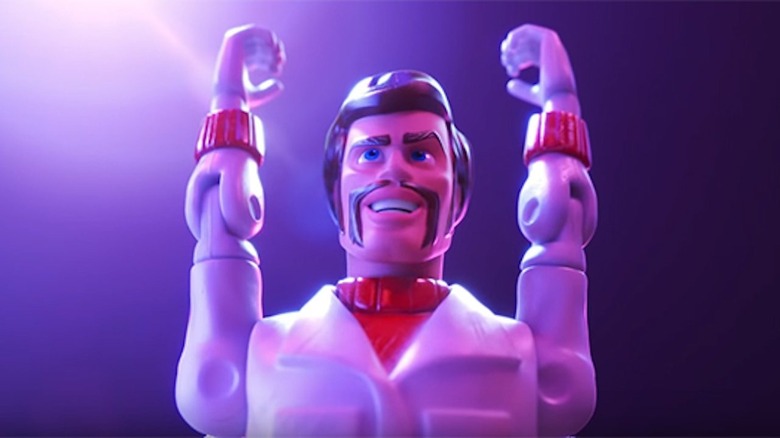 "DC League Of Super-Pets" is not the first time that Keanu Reeves has joined an iconic animated film franchise. Reeves is one of the many talented actors who has appeared in the "Toy Story" films. Reeves voiced the action figure Duke Kaboom in 2019's "Toy Story 4." The first three "Toy Story" films tell a complete story. While a fourth installment could have ruined the perfect ending, "Toy Story 4" thankfully made the series still feel fresh by including new toys. Duke Caboom is one of the most entertaining characters that is introduced.
In "Toy Story 4," Woody (Tim Allen) becomes separated from his new owner, Bonnie (Madeleine McGraw). Woody and the new toy Forky (Tony Hale) are lost at an RV park when Bonnie's family goes on a road trip. After he reunites with his former love interest, Bo Peep (Annie Potts), Woody considers not returning home. However, he knows how important Forky is to Bonnie. Woody is determined to make Bonnie happy, no matter what.
After Forky is lost in a carnival, Woody and Bo Peep recruit a group of new toys to rescue him. Among their new friends is Duke Caboom, a Canadian stunt motorcyclist toy. Reeves' deadpan delivery of Duke's lines is hilarious. He has a heartwarming character arc; Duke regains his confidence after helping Woody find Forky.
14. The Gift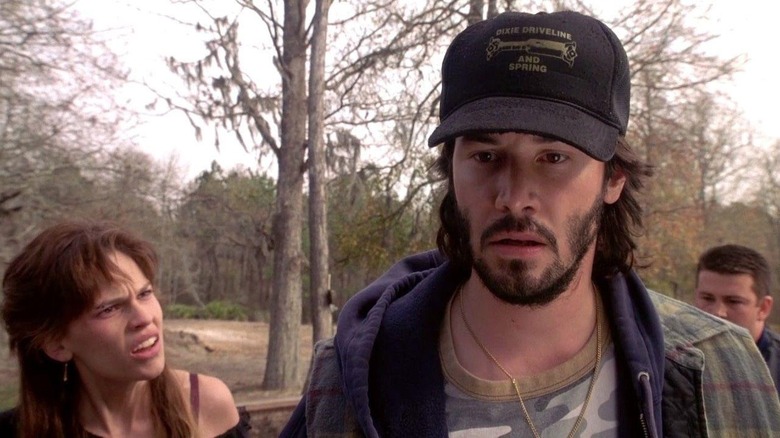 Sam Raimi is one of the most talented horror filmmakers of all-time. However, Raimi has also directed many films outside of the horror genre. His 2000 film "The Gift" is a supernatural mystery, even though there are still elements of horror. Raimi stepped outside of his comfort zone, and it worked in his favor. However, Raimi wasn't the only person involved with "The Gift" who was trying something new. Keanu Reeves stepped outside his typically friendly persona and played a dark, violent abuser.
"The Gift" takes place in the small town of Brixton, Georgia. The film follows Annie Wilson (Cate Blanchett), a supernatural fortune-teller, who uses her psychic abilities to learn about her clients. Wilson is coping with the recent death of her husband. She receives a traumatic vision, which predicts the death of the local woman Jessica King (Katie Holmes). Annie informs the local sheriff, Pearl Johnson (J.K. Simmons). Although he does not believe her, Johnson begins investigating the case.
Johnson suspects that Donnie Barksdale (Reeves) murdered Jessica. Donnie has been harassing his wife, Valerie (Hillary Swank). Even though Donnie has threatened her in the past, Annie learns that he is innocent. After Donnie is put on trial, Annie uses her powers to look for the real killer. Reeves does a great job at playing a complex character. Even though he is innocent of the crime that he's accused of, Donnie is still an abuser.
If you or someone you know is dealing with domestic abuse, you can call the National Domestic Violence Hotline at 1−800−799−7233. You can also find more information, resources, and support at their website.
13. Constantine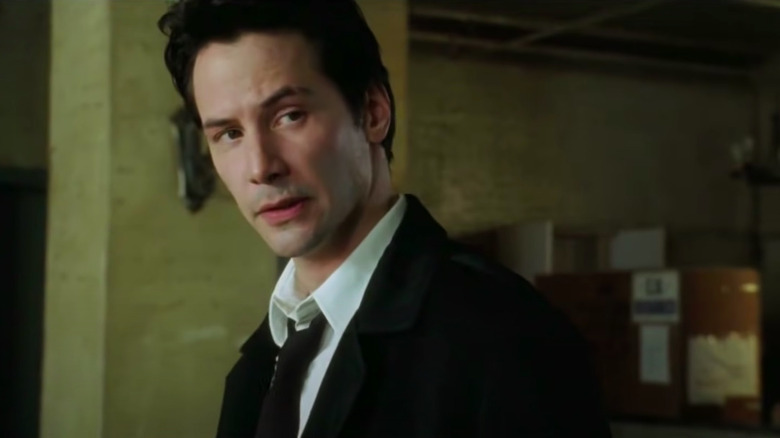 While many fans want to see him appear in the Marvel Cinematic Universe, Keanu Reeves already starred in one of the most underrated DC comic book films ever made. The 2005 superhero film "Constantine" is based on the character who was created by Alan Moore, Rick Veitch, Steve Bissette, and John Totleben for the "Hellblazer" series. It was the feature film directorial debut of Francis Lawrence, who would go on to direct several films in "The Hunger Games" franchise. At the time, there were not many comic book films that received an R-Rating from the MPAA. The dark tone of "Constantine" made it stand out among superhero films. Reeves is perfectly cast as the titular anti-hero.
John Constantine is a private investigator and exorcist. He has the ability to speak with both angels and demons, even if they are not disguised as humans. Despite the nature of his work, Constantine does not consider himself to be a "hero." He keeps to himself. The Los Angeles Police Department Detective Angela Dodson (Rachel Weisz) hires Constantine to investigate the death of her twin sister, Isabel (also Weisz). Although Isabel's death was ruled as a suicide, Angela suspects that there is something else going on.
"Constantine" retains the grim atmosphere of the original source material. While there are plenty of great action sequences, the jump scares make "Constantine" feel like a horror film.
12. The Neon Demon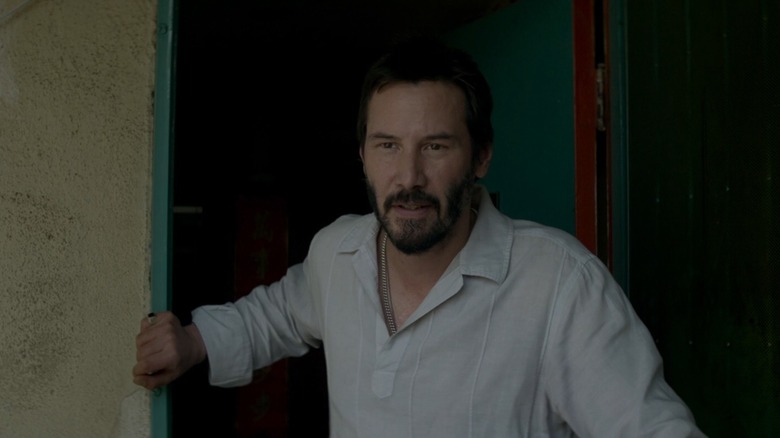 One of the most interestings things about Keanu Reeves is his ability to show up in smaller character parts. Reeves is very humble; he doesn't demand to be the star of every movie he appears in. His star power grants legitimacy to many fascinating projects. Nicolas Winding Refn's 2016 horror film "The Neon Demon" is one of the most disturbing films in recent memory. Refn explores the corrupt nature of the fashion industry, and examines how women are forced to conform to unrealistic standards of beauty. Reeves helps to create the eerie atmosphere of the film.
"The Neon Demon" follows the young model Jesse (Elle Fanning), who moves to Los Angeles to pursue a career in fashion. Her beauty attracts the attention of the photographer Dean (Karl Glusman) and the makeup artist Ruby (Jena Malone). Jesse becomes an overnight success. The models Gigi (Bella Heathcote) and Sarah (Abbey Lee) grow very jealous of her.
Despite the glamorous fashion world that she is now a part of, Jesse has to stay in a seedy motel in the underbelly of the city. She is frightened of Hank (Reeves), the manager of the motel. She has terrifying visions that Hank will assault her. Reeves is genuinely scary in these nightmarish sequences.
11. The Devil's Advocate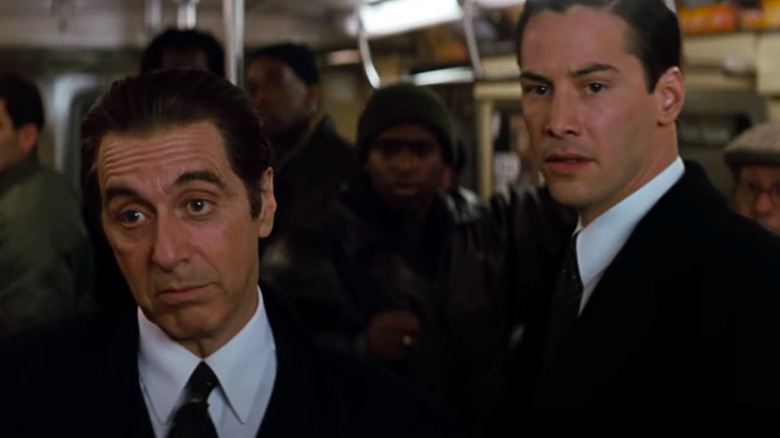 The 1997 courtroom horror drama "The Devil's Advocate" asked Keanu Reeves to do something challenging for him; he had to play a completely unlikeable character. Considering how inherently amiable Reeves is, the role of a crooked lawyer was a major stretch. However, Reeves was able to shed his endearing persona. It showed just how versatile he is as an actor.
There were many legal thrillers in the 1990s, but "The Devil's Advocate" is one of the most unusual. The film combines elements of horror, fantasy, and dark comedy to create a disturbing deconstruction of the nature of evil. Based on the 1990 novel by Andrew Neiderman, "The Devil's Advocate" follows the successful Florida lawyer Kevin Lomax (Reeves). Kevin is not averse to using deceptive techniques to win his cases. In the shocking opening scene, Kevin cross-examines a child witness, who is the defendant in a sexual assault case.
Kevin receives an intriguing offer from the enigmatic New York law firm representative John Milton (Al Pacino). He decides to join Milton's firm, and moves to Manhattan with his wife, Mary Ann (Charlize Theron). As Kevin begins to take on new cases, he becomes more aggressive. Milton encourages Kevin to relish his behavior. Mary Ann experiences shocking visions. It is heavily implied that Milton is actually Satan. Reeves shows how an evil man can become even more sinister.
10. Much Ado About Nothing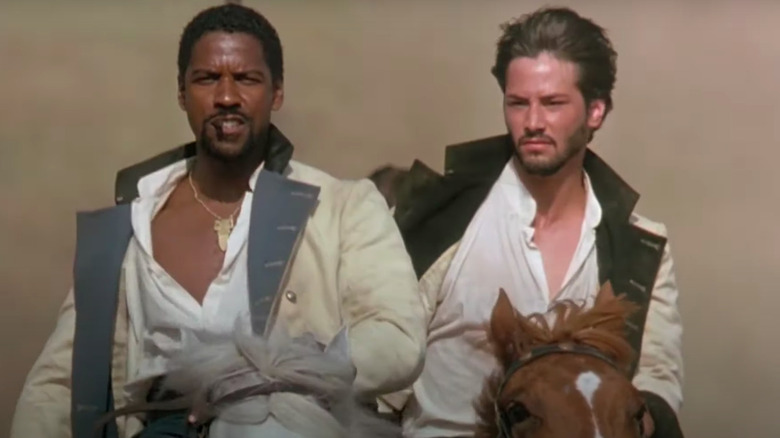 "Much Ado About Nothing" is one of William Shakespeare's most beloved comedies. It tells the timeless story of a series of romantic interpretations. The original play has been adapted into many different films. However, Kenneth Branagh's 1993 adaptation is one of the best. Branagh turned the story into an elaborate melodrama. The performances are all very heightened and over-the-top, but for a good reason. It makes the hilarious dialogue even funnier. Keanu Reeves is perfectly cast as the sinister villain Don John. Compared to the rest of the performances, Reeves is very reserved. His stilted nature emphasizes just how evil Don John really is.
Branagh's version of "Much Ado About Nothing" does not change the context of Shakespeare's original text. The film takes place in Messina during the 17th century. The Prince of Aragon, Don Pedro (Denzel Washington), returns home with his loyal companions. Among them is the witty womanizer Benedick (Branagh) and the earnest young man Claudio (Robert Sean Leonard). All Claudio can do is dream of reuniting with Hero (Kate Beckninsale), the daughter of the Governor of Messina, Leonato (Richard Briers). Don Pedro reluctantly agrees to let his brother, Don John, back into the city. Don John had attempted to stage a rebellion against him.
Don John decides to orchestrate an evil plan. After Claudio proposes to Hero, Don John convinces him that his new fiancee is being unfaithful. Although this creates tension within the community, Don John's plot is foiled in the end.
9. Bram Stoker's Dracula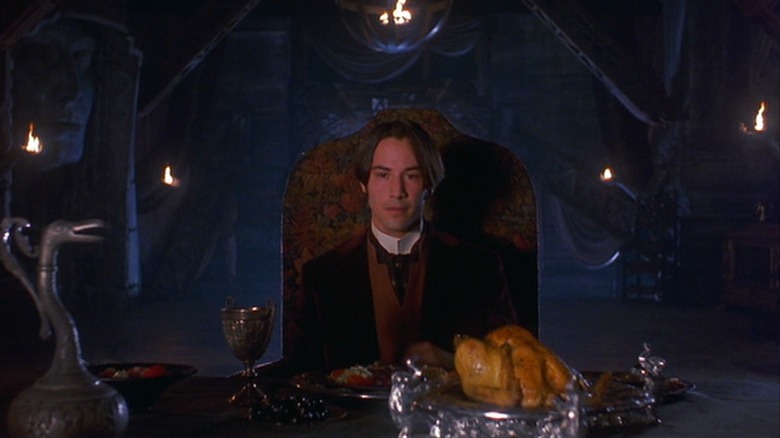 There have been countless depictions of Bram Stoker's iconic vampire, Count Dracula, throughout the course of film history. With any character that exists in the public domain, it can be challenging to create a compelling new version. However, Francis Ford Coppola managed to make the Dracula story feel exciting again with his 1992 film "Bram Stoker's Dracula." Coppola turned the vampire's origin story into an epic gothic romance. Gary Oldman delivers one of his greatest performances ever as the titular character. The film is visually gorgeous; it won three Academy Awards, for best makeup, best sound effects editing, and best costume design. Coppola transported the viewer to London during the end of the 19th century.
Keanu Reeves co-starred in the film as the young solicitor Jonathan Harker. Even though his British accent is a little stiff, Reeves is still a compelling romantic lead. After his associate R. M. Renfield (Tom Waits) is admitted to a mental facility, Jonathan takes over Renfield's clients. Among them is the enigmatic Count Dracula. Dracula sees a picture of Jonathan's fiancee, Mina (Winona Ryder). He believes that she is the reincarnation of his dead bride, Elisabeta.
8. River's Edge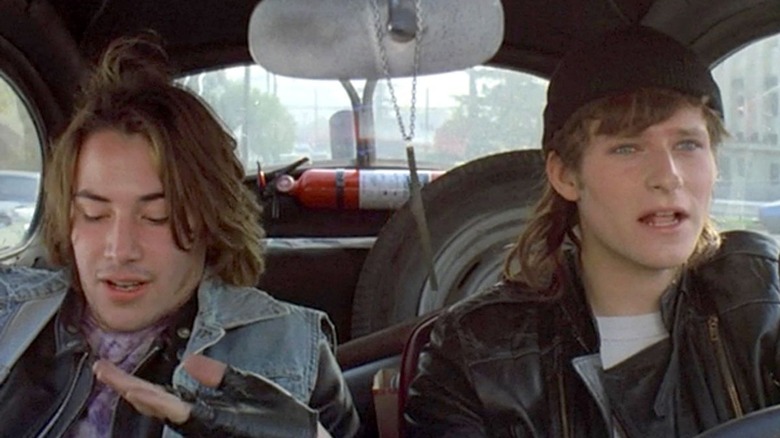 Tim Hunter's 1989 crime drama "River's Edge" is one of the darkest coming-of-age films ever made. Compared to the warm, heartfelt style of the John Hughes films, "River's Edge" is much more realistic and disturbing. The film explores the consequences that young people are forced to face for their irresponsible behavior. It asks a thought-provoking question; what are you supposed to do when someone that you care about makes a horrible decision? This is a question that adults may struggle to answer, and it is even more difficult for teenagers to contemplate.
Keanu Reeves co-stars in the film as Matt, who is a bit of a troublemaker. Unlike many of his other roles, Reeves isn't playing a character that is inherently likable. Initially, Matt is very rude, and sometimes he does cruel things. He is mean to his younger brother, Tim (Joshua John Miller). Matt does not have a lot of ambition. The highlight of his day is going with his friend, Layne (Crispin Glover), to pick up marijuana from the local criminal Feck (Dennis Hopper). However, Matt and his group of friends are soon forced to deal with a disturbing situation. They learn that their companion, Jamie (Danyi Deats), has been murdered.
The authorities search the area in their investigation. However, Matt and his friends learn that Jamie's boyfriend, John (Daniel Roebuck), is the murderer. They are unsure what they should do. Reeves is completely believable as a confused teenager. He makes Matt's plight more compelling.
7. Dangerous Liaisons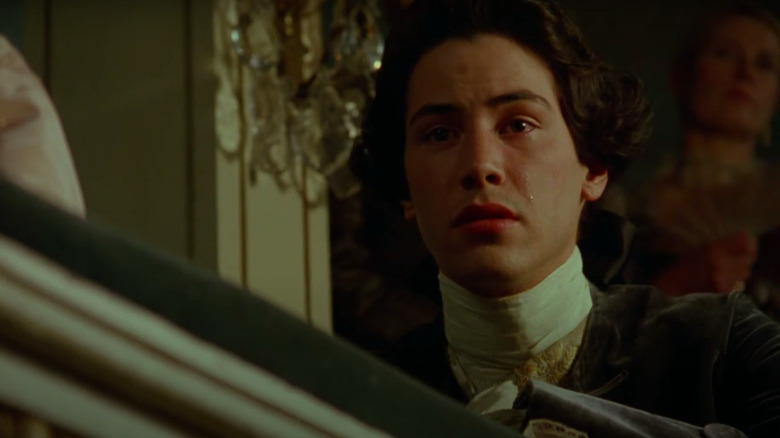 Even if you don't like costume dramas, the 1988 film "Dangerous Liaisons" may surprise you. The film is based on the 1985 stage show "Les liaisons dangereuses," which adapted Pierre Choderlos de Laclos' novel from 1782. Although the film takes place in 18th century France, the subject material does not feel irrelevant. In fact, the crude sexual content in "Dangerous Liaisons" is more shocking than most films of its generation. The characters in "Dangerous Liaisons" are completely ruthless. The film explores the tragic consequences of a sordid scheme.
The film takes place in pre-Revolution Paris. The former lovers Vicomte Sébastien de Valmont (John Malkovich) and the Marquise Isabelle de Merteuil (Glenn Close) take pleasure in mocking their contemporaries. They speculate on the various romantic affairs that are going on in high society. Merteuil wants to get revenge on her former fiance, the Comte de Bastide. He had left her prior to their wedding. Merteuil recruits Valmont to seduce the Comte de Bastides' new fiance, the virgin Cécile de Volanges (Uma Thurman).
However, Cécile begins to fall in love with her music teacher, the hapless Le Chevalier Raphael Danceny (Keanu Reeves). This delights Merteuil to no end. She knows that Danceny is a commoner, and has no chance of ever marrying a rich girl. She begins to seduce him. Merteuil encourages Danceny to challenge Valmont to a duel. Reeves does a great job at playing a gullible heartthrob.
6. Parenthood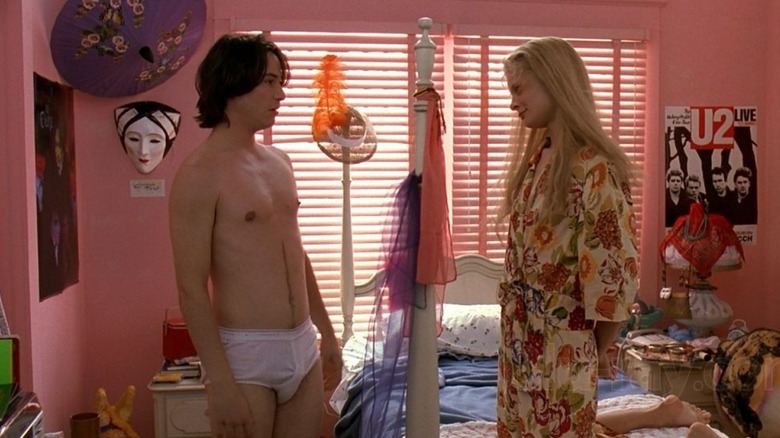 It was clear that Keanu Reeves was a special talent, even when he was very young. Reeves delivered one of his breakout performances in the 1989 comedy classic "Parenthood." Director Ron Howard created a very realistic film about familial relationships. Even though the film has many uproariously funny sequences, the emotions are all grounded in reality. Many viewers could relate to what the characters are going through. "Parenthood" is very empathetic to all of the characters' perspectives. Each member of the cast is memorable. Even though he is mostly used as the comic relief, Reeves has many very heartfelt moments in the film.
"Parenthood" follows the eccentric misadventures of the Buckmann family. Helen (Dianne West) struggles to raise her two children, Julie (Martha Plimpton) and Garry (Joaquin Phoenix). Helen's husband recently left her. Garry desperately hopes that he will get the chance to see his father again. However, Julie wants nothing to do with her mother. She plans to get married to her boyfriend, Tod Higgins (Reeves). After Julie becomes pregnant, Tod moves into Helen's house. Neither Tod or Helen is prepared to be a parent.
Even though he is a goofy slacker, Tod is completely devoted to Julie. He tries to be more responsible. Tod gives Garry advice, and becomes his mentor. After Garry learns that Helen's husband is never coming back, Tod becomes a father-like figure to him. The chemistry between Reeves and Phoenix is very endearing.
5. Point Break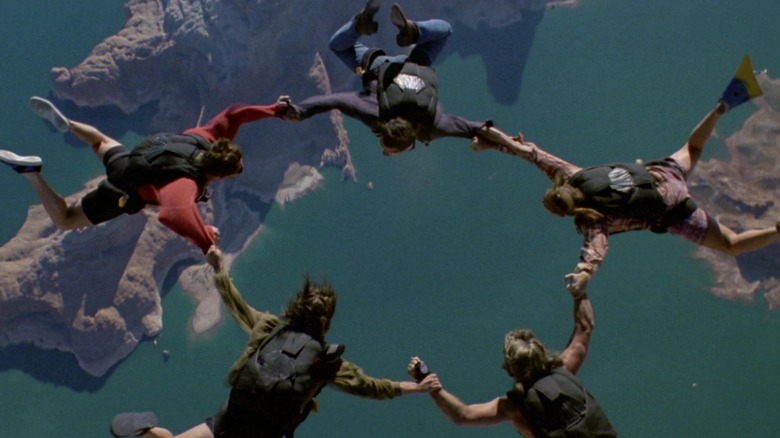 It is very easy to make fun of the 1991 action movie "Point Break." It has one of the most ridiculous movie premises of all-time: an FBI agent goes undercover to stop a group of surfers from robbing banks. However, the film is incredibly self-aware. It completely acknowledges its ridiculous premise. Director Kathryn Bigelow satirized the nature of masculinity. She emphasizes the heightened emotional state of the characters. Bigelow fought to cast Reeves in one of the lead roles.
Reeves is perfect for the character of Johnny Utah. Utah is self-serious to an absurd degree. His straight-faced delivery of the ridiculous dialogue is simply hilarious. "Point Break" does not go out of its way to emphasize the satirical elements; all of the actors feel completely earnest.
The emotional crux of "Point Break" is the relationship between Utah and the leader of the robbers, Bodhi (Patrick Swayze). Swayze is effortlessly charismatic and relaxed. Utah and Bodhi bond over the course of their time together. Even though he knows about Bodhi's actual profession, Utah finds himself attracted to the surfer's philosophies. Some critics have interpreted the film as a homoerotic love story. The passionate chemistry between Reeves and Swayze would certainly indicate that to be the case.
4. Speed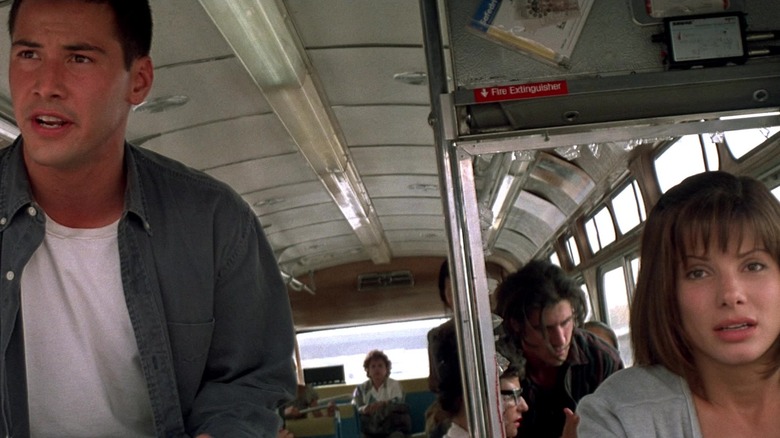 In the wake of 1988's "Die Hard," there were many imitators that attempted to take the same premise, and set it in a different location. Among all of these action films, 1994's "Speed" was the very best. Director Jan de Bont crafted a taught, suspenseful film that did not ever lose its sense of momentum. Essentially, it is a perfect action movie. "Speed" is more than just "'Die Hard' on a bus." It is a great example of how to maximize a simple story, and make the most of a confined environment.
"Speed" takes place during a hot summer day in Los Angeles. A series of bombings has terrified the city. The LAPD Officer Jack Traven (Keanu Reeves) receives a threat from the terrorist Howard Payne (Dennis Hopper) that a mass transit bus is detonated to explode if it goes over 50 mph. Jack desperately races to the bus and boards it. However, he is too late. The device is already armed. Jack has to stay on the bus to keep the passengers safe. He bonds with a fellow passenger, Annie Porter (Sandra Bullock).
Reeves and Bullock have outstanding chemistry. Their relationship is the heart of the story. If there was ever any doubt as to how important Reeves was to making "Speed" a success, just watch the sequel, 1997's "Speed 2: Cruise Control." Reeves is absent in the film, which is one of the worst action movie sequels of all-time.
3. Bill & Ted's Excellent Adventure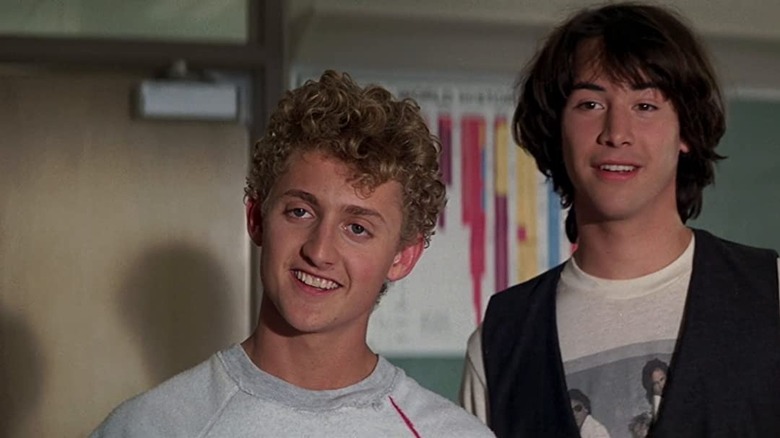 As dim-witted as the titular characters are, "Bill & Ted's Excellent Adventure" is a surprisingly intelligent film. The 1989 comedy classic hilariously parodies many historical events. It also used time travel in a clever way, which is not very easy to do. Time travel films can often become very confusing. Keanu Reeves and his co-star Alex Winter were definitely in on the joke, but they also made their characters seem relatable.
The film follows the hapless slacker Bill S. Preston (Winter) and Theodore Logan (Reeves), who want nothing more than to be rock stars. They have their own band, the Wyld Stallyns. Despite dreaming of giving huge concerts, Bill and Ted don't really know how to play their instruments. They're on the verge of failing high school. Bill and Ted get one last shot at saving their grades before they graduate; their history teacher offers them the opportunity to create a project about history's greatest leaders.
Bill and Ted are visited by the time traveler Rufus (George Carlin). Rufus tells them that in the future, the philosophy of the Wyld Stallyns is the basis for a utopian society. However, this exciting future will not exist if they don't pass their final exam. Rufus sends Bill and Ted back in time to learn about history. They gather a group of historical icons to deliver their presentation.
2. John Wick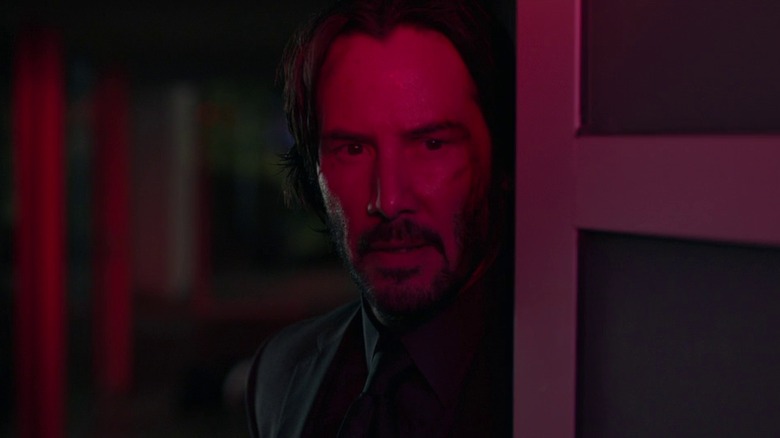 At one point in "John Wick," the titular character murmurs "Yeah, I'm thinking I'm back." Keanu Reeves could say the same thing after the film debuted. The expectations for "John Wick" were not very high before it came out; Chad Stahelski and David Leitch were first time filmmakers, and the first teaser trailer was released only one month before the film was scheduled to hit theaters. At first, it seemed like "John Wick" would just be another forgettable action film. It was anything but that.
Similar to what "The Matrix" did back in 1999, "John Wick" wowed action fans with its amazing stunt work and choreography. Reeves is very dedicated to making the film feel realistic. He did most of his own stunts. "John Wick" combines many different types of action movies. There are many gun fights and martial arts sequences. Despite the relentless pacing, the film has a very subtle sense of humor. It acknowledges the ridiculous nature of the story.
The action sequences are grounded by the most emotional performance of Reeves' career. He plays a man who is grieving after the death of his wife. John is just looking for some sense of companionship. He finally finds a friend after taking in a beagle that his wife had given to him before she died. After a gang of ruthless criminals kill his dog, John sets out on a bloody quest for revenge. Has there ever been a more justified character motivation?
1. The Matrix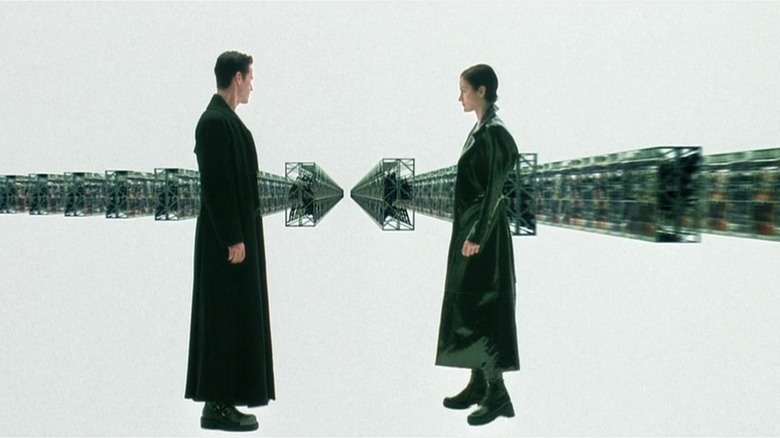 1999's "The Matrix" is one of the most influential science fiction films of the 1990s. It is also one of the best action movies ever made. Everything about the film was a game changer. The way that the Wachowski sisters combined gun fights, kung fu, and slow motion was unlike anything that American audiences had ever seen before. In the subsequent years, there were countless imitators that attempted to replicate the same style.
"The Matrix" is also a very complex text. The Wachowskis have confirmed that the film is an allegory for the transgender experience. It also explores ancient philosophy. The film is loosely inspired by the Greek philosopher Plato's Allegory of the Cave, which suggests that humans are living in a simulated reality. The Wachowskis took this historical concept, and inserted it into an exciting science fiction adventure. "The Matrix" can also be seen as a grim warning about the over-reliance on technology.
Over 20 years after its release, "The Matrix" is still worth revisiting for its thematic value. Keanu Reeves is an essential part of why "The Matrix" was so successful. A story this nuanced needed an empathetic lead character, who the audience could relate to. Neo experiences the changes in his reality at the same time that the viewer does.
Read this next: 95 Best Sci-Fi Movies Ever
The post The 20 Best Keanu Reeves Movies Ranked appeared first on /Film.
/Film – 'Slash Film: The 20 Best Keanu Reeves Movies Ranked'
Author: Liam Gaughan
Go to Source
May 11, 2022
Hits: 2