Slash Film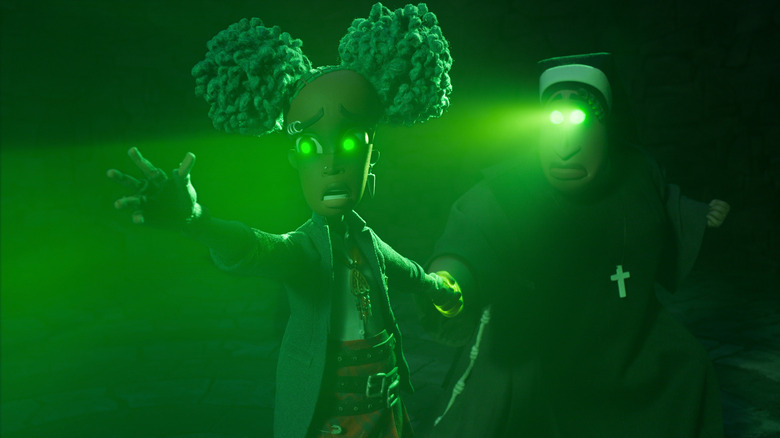 At first, "Netflix & Chills" was very much a try-hard, "How do you do, fellow kids?" style of marketing line intended to promote Netflix's exclusive films and TV shows arriving in the annual lead-up to Halloween, be they horror-related or not. Since then, however, spooky season has become serious business for the streaming service.
Case in point: Halloween 2022 will see brand-new projects from the likes of horror extraordinaires Jordan Peele, Henry Selick, and Guillermo del Toro make their way onto Netflix in October, along with the latest spine-chilling series from "The Haunting" and "Midnight Mass" creator Mike Flanagan. That's on top of a slathering of docuseries covering (allegedly) paranormal activity, baffling unsolve mysteries, and supposedly haunted locations in the real-world. Really, whatever your preferred flavor of spookiness, Netflix is hoping to quench your thirst.
Should you find yourself in more of a throwback mood, Netflix will also make the James Gunn-penned live-action "Scooby-Doo" films available for streaming that month, along with Universal's original failed attempt to re-launch its monster movie universe, "Dracula Untold." And if you've been meaning to finally get around to watching one of Netflix's earliest original horror offerings, "Hemlock Grove," you'll want to get a move-on as it's leaving the streamer part-way into the month.
Here's a rundown of all the titles coming to Netflix in October 2022 (starting with some special picks).
The Midnight Club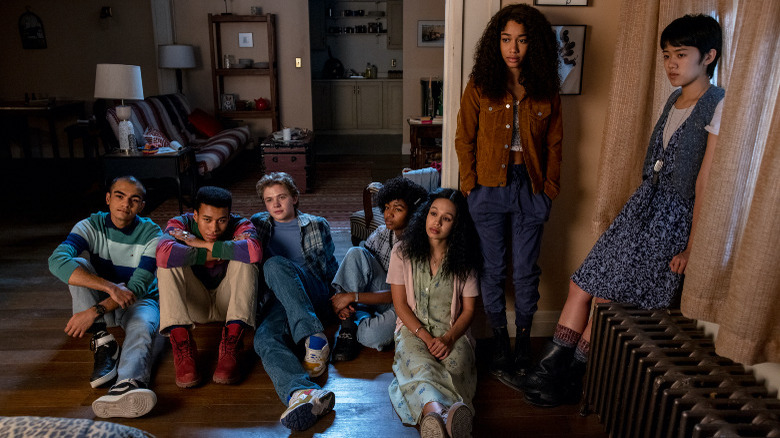 Unlike his previous Netflix series and films ("Hush," "Gerald's Game"), "The Midnight Club" sees Mike Flanagan trying his hand at YA horror. The show, which Flanagan co-created with "Once Upon a Time" and "The Haunting of Bly Manor" alum Leah Fong, adapts Christopher Pike's 1994 novel of the same name about a group of terminally ill young adults who gather at midnight every night to share scary stories at their hospice. Upon agreeing the first of them to die should try and reach out to the others from beyond the grave (so as to assure their friends death is not the end)… well, as you might imagine, things take a turn for the horrifying.
Flanagan's work is known for being as poignant as it is chilling, and "The Midnight Club" reads like a story firmly in his wheelhouse. Sure, the premise might seem a little too much like "The Fault in Our Stars" meets "Are You Afraid of the Dark?," but Pike is similar to Flanagan in that he's not afraid to really challenge his readers by killing off their favorite characters in brutal and shocking ways (without being exploitive or insensitive, that is). Add Fong into the mix and this meeting of the minds might just prove to be something pretty special.
Mr. Harrigan's Phone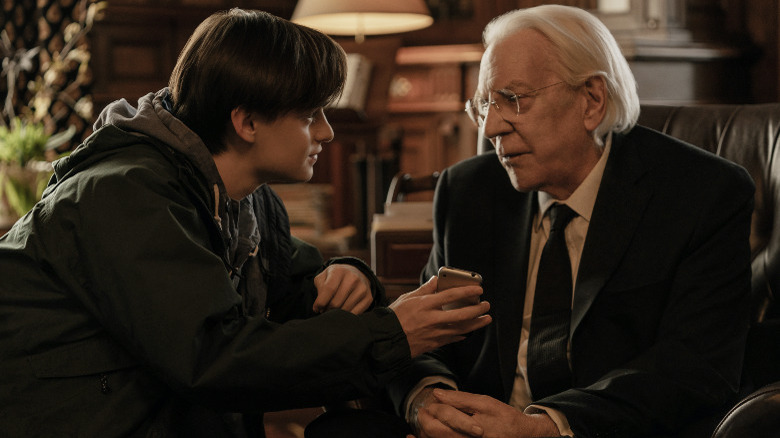 We've gotten Stephen King movies about haunted houses, haunted cars, and haunted soda machines. Now, are you ready for a Stephen King movie about… a haunted phone?
Er, no, I don't mean "The Black Phone" (which is based on a story by King's son, Joe Hill). I'm referring to "Mr. Harrigan's Phone," a film adapted from King's novella of the same name from his 2020 collection, "If It Bleeds." The movie stars "It" and "Knives Out" veteran Jaeden Martell as a young boy who forms a surprising bond with his small-town's local reclusive billionaire (Donald Sutherland). When the latter dies, his companion is shocked to discover he can speak to his friend beyond the grave thanks to the iPhone he left behind. I'm still waiting to hear from Apple about that update, myself.
All jokes about its concept aside, "Mr. Harrigan's Phone" could very well prove to be the next notable Stephen King coming-of-age horror movie, assuming it's executed well. The film's writer and director, John Lee Hancock, has a track record of making sturdy if unremarkable dramatic thrillers geared towards older viewers ("The Highwaymen," "The Little Things"), so it may be best to temper your expectations for this one accordingly.
The School For Good And Evil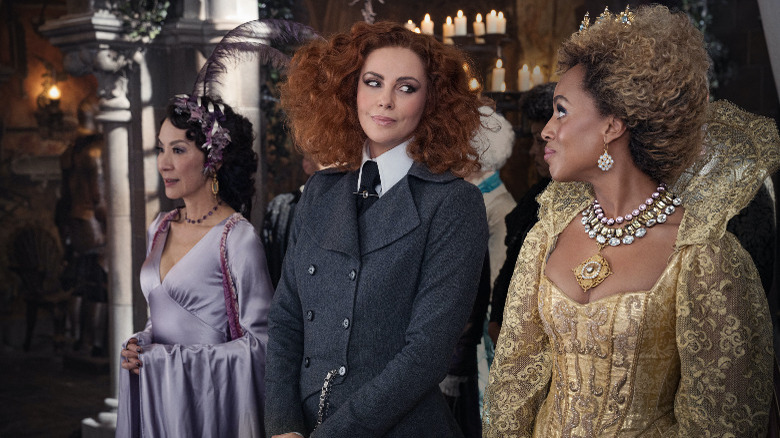 Young adult fantasy novel adaptations about secret schools for students with fantastical abilities seem to be making a comeback of late (at least the ones that don't involve Hogwarts, that is). With the "Vampire Academy" series now streaming on Peacock and the "Percy Jackson and the Olympians" TV show headed to Disney+, Netflix has its own horse in this race in the form of "The School for Good and Evil," a film by "Bridemaids" and "A Simple Favor" director Paul Feig.
Sophia Anne Caruso and Sofia Wylie star in "The School for Good and Evil" as, respectively, Sophie and Agatha, two besties who hope to attend the titular academy, only to find their fates reversed when the wannabe-princess Sophie ends up in the School for Evil and the would-be witch Agatha lands in the School for Good. However, the big selling point for the movie — which is based on the first entry in Soman Chainani's novel series of the same name — is the casting of the teachers, which include Charlize Theron as the "acid-tongued" head of the School for Evil, Lady Lesso, and Kerry Washington as the "sunny and kind" head of the School for Good, Professor Dovey. Laurence Fishburne and Michelle Yeoh are also playing key roles, on the offf-chance that's not enough to pique your interest in this one.
Guillermo Del Toro's Cabinet Of Curiosities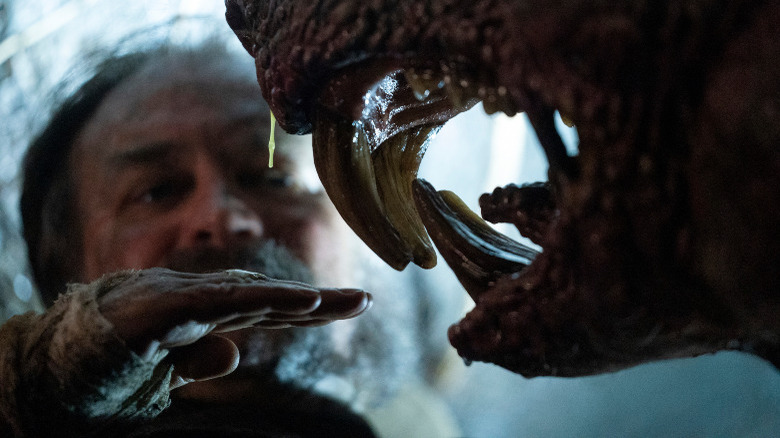 If a horror anthology series curated by Guillermo del Toro and made by some of the best horror directors in the biz right now doesn't scream must-watch viewing for spooky season then, well, I don't know what does.
"Cabinet of Curiosities" is described as a collection of eight stories exploring different horror genres, with some of them drawing from original tales written by del Toro (who also acts as the show's host) and other ones adapting works by such legendary names as H.P. Lovecraft and Michael Shea. Among the series' directors are Jennifer Kent ("The Babadook"), Vincenzo Natali ("Splice"), and Ana Lily Amirpour ("A Girl Walks Home Alone at Night"), with an equally eclectic and celebrated team of actors in place that includes the likes of Essie Davis, Tim Blake Nelson, and Crispin Glover, just for starters.
To be fair, and I say this with no judgement, "Cabinet of Curiosities" might be a little too niche for those who aren't necessarily up for the type of hardcore horror storytelling with the potential to send you spiraling into an existential crisis (or just really gross you out, in a good way). But if subversive, mind-bending, and otherwise bizarrely scary spectacles are your cup of tea, then best to go ahead and add this one to your Halloween streaming docket now.
Wendell & Wild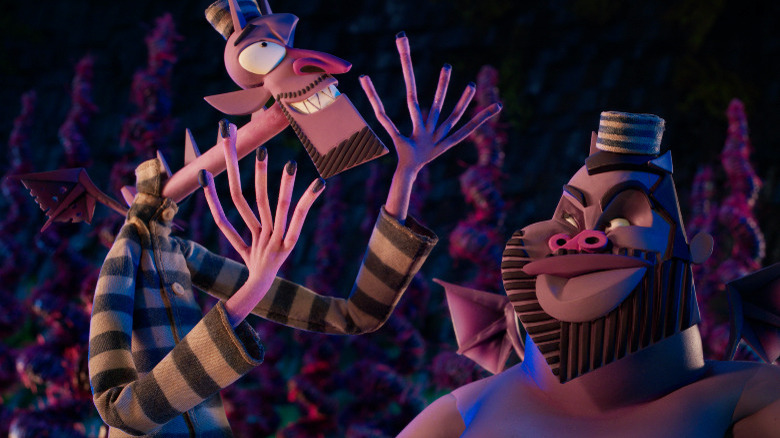 Thankfully, "Nope" isn't the only Jordan Peele horror-comedy project on the menu for 2022. There's also "Wendell & Wild," a stop-motion animated film that Peele co-wrote with "The Nightmare Before Christmas" director Henry Selick. The latter multi-talent makes his long-awaited return here, more than a decade after scaring the socks off kids (and, let's be real, more than a few adults) with his 2009 hit "Coraline."
As it all that wasn't enough, "Wendell & Wild" also reunites Peele with his "Key & Peele" creator and co-star Keegan-Michael Key as the voices of the titular duo, a pair of scheming demonic brothers hell-bent on invading the Land of the Living. Lyric Ross also lends her voice to the film as Kat Elliot, a 13-year-old punk-rock teen who gets more than she bargained for (or does she?) when she agrees to help Wendell and Wild on their mischief-making quest.
Early reviews for "Wendell & Wild" are quite positive in the wake of the movie's premiere at the Toronto International Film Festival, with /Film's own Sarah Milner describing it as "grim, and vibrant, and weird while also being poignant, and stylish, and funny — everything you could want for a PG-13 horror movie for kids." Mr. Selick, it's been far too long, but it's great to have you back all the same.
Movies And TV Shows Coming To Netflix In October 2022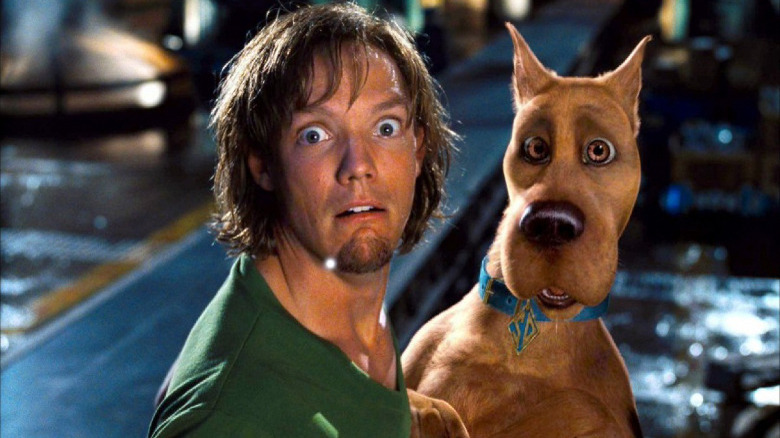 TBA:
20th Century Girl
Inside Man
Available October 1, 2022:
17 Again
30 Minutes or Less
60 Days In: Season 3
Any Given Sunday
Barbie: It Takes Two: Season 2
Call Me by Your Name
Charlotte's Web (2006)
Chocolat
City Slickers
The Color Purple
Gladiator
How to Lose a Guy in 10 Days
I Love You, Man
Labyrinth
Land of the Lost
Last Seen Alive
Mr. & Mrs. Smith
National Lampoon's European Vacation
National Lampoon's Vacation
Ocean's Eleven
Ocean's Thirteen
Ocean's Twelve
Point Break (1991)
Risky Business
Robin Hood
Runaway Bride
Rush Hour
Rush Hour 2
Rush Hour 3
Scooby-Doo
Scooby-Doo 2: Monsters Unleashed
Sex and the City 2
Sex and the City: The Movie
Teenage Mutant Ninja Turtles
Teenage Mutant Ninja Turtles II: The Secret of the Ooze
Teenage Mutant Ninja Turtles III
Teenage Mutant Ninja Turtles: The Movie
Vegas Vacation
Walking Tall
Wedding Crashers
Yes Man
Available October 2, 2022:
Forever Queens
Chip and Potato: Season 4
Jexi
Available October 4, 2022:
Hasan Minhaj: The King's Jester
Available October 5, 2022:
Bling Empire
High Water
Jumping from High Places
Mr. Harrigan's Phone
Nailed It!: Season 7
The Fight for Justice: Paolo Guerrero 
The Trapped 13: How We Survived The Thai Cave
Togo
Available October 6, 2022:
Aftershock: Everest and the Nepal Earthquake
The Joys and Sorrows of Young Yuguo
Available October 7, 2022:
Conversations with a Killer: The Jeffrey Dahmer Tapes
Derry Girls: Season 3
Doll House
Glitch
Kev Adams: The Real Me
Luckiest Girl Alive
Man on Pause
The Midnight Club
The Mole
Oddballs
Old People
The Redeem Team
TIGER & BUNNY 2 Part 2
Available October 9, 2022:
Available October 10, 2022:
LEGO Ninjago: Season 4 Crystallized- Part 2
Spirit Rangers
Available October 11, 2022:
The Cage
DEAW#13 Udom Taephanich Stand Up Comedy Show
Iliza Shlesinger: Hot Forever
Island of the Sea Wolves
Available October 12, 2022:
Belascoarán, PI
Blackout
Easy-Bake Battle
The Nutty Boy
Wild Croc Territory
Available October 13, 2022:
Dead End: Paranormal Park: Season 2
Exception
The Playlist
The Sinner: Season 4: Percy
Someone Borrowed
Sue Perkins: Perfectly Legal
Available October 14, 2022:
Black Butterflies
The Curse of Bridge Hollow
Everything Calls for Salvation
Holy Family
Mismatched: Season 2
Take 1
Available October 15, 2022:
Blippi's Spooky Spell Halloween
Under the Queen's Umbrella
Available October 16, 2022:
Dracula Untold
Toni Morrison: The Pieces I Am
Available October 17, 2022:
Waffles + Mochi's Restaurant
Available October 18, 2022:
Gabriel Iglesias: Stadium Fluffy Live From Los Angeles
LiSA Another Great Day
Somebody Feed Phil: Season 6
Unsolved Mysteries: Volume 3
Available October 19, 2022:
The Green Glove Gang
Love Is Blind: Season 3
Notre-Dame
The School for Good and Evil
The Stranger
Available October 21, 2022:
28 Days Haunted
Barbarians II
Descendant
From Scratch
High: Confessions of an Ibiza Drug Mule
ONI: Thunder God's Tale
Pokémon Ultimate Journeys
Available October 22, 2022:
LOL Surprise! Winter Fashion Show
Available October 23, 2022:
Franco Escamilla: Eavesdropping
Available October 24, 2022:
Available October 25, 2022:
Barbie Epic Road Trip
Blade of the 47 Ronin
Fortune Feimster: Good Fortune
Guillermo Del Toro's Cabinet of Curiosities
Unsolved Mysteries: Volume 3
Available October 26, 2022:
Fugitive: The Curious Case of Carlos Ghosn
The Good Nurse
Hellhole
Love Is Blind: Season 3
Robbing Mussolini
Available October 27, 2022:
Cici
Daniel Spellbound
Dubai Bling
Earthstorm
Family Reunion: Part 5
Hotel Transylvania 2
Romantic Killer
Available October 28, 2022:
All Quiet on the Western Front
The Bastard Son & The Devil Himself
Big Mouth: Season 6
Drink Masters
I AM A STALKER
If Only
My Encounter with Evil
Wendell & Wild
Wild is the Wind
Available October 29, 2022:
Read this next: 12 Shows Like Stranger Things You Definitely Need To Stream
The post The Best TV Shows And Movies Coming To Netflix In October 2022 appeared first on /Film.
/Film – 'Slash Film: The Best TV Shows And Movies Coming To Netflix In October 2022'
Author: Sandy Schaefer
Go to Source
September 22, 2022
Hits: 0